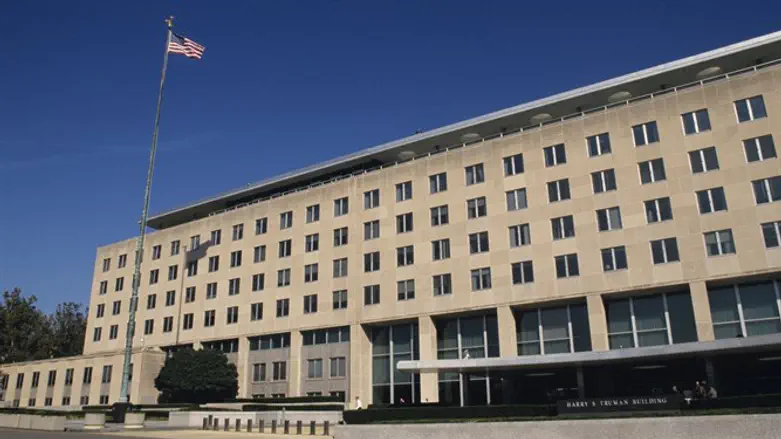 State Department building
Thinkstock
The State Department in Washington on Tuesday once again blasted the "Regulation Law", which passed a preliminary reading in the Knesset on Monday, saying it is "profoundly damaging."
"Enacting this law would be profoundly damaging to the prospects for a two-state solution," State Department spokesman Mark Toner said, according to AFP.
"We've also been troubled by comments that we've heard by some political figures in Israel that this would be the first step in annexing parts of the West Bank," he added.
The Regulation Law was passed without clause 7, which would have prevented the destruction of the town of Amona, after Prime Minister Binyamin Netanyahu and Jewish Home chairman Naftali Bennett agreed on a compromise.
Despite passing a preliminary reading, the law still must pass three further readings to become law.
"We're deeply concerned about it," Toner said Tuesday, adding, "We hope that it does not become law. We certainly hope that changes or modifications can be made to it."
Toner's comments mark the second time that a State Department official has expressed concern over the Regulation Law.
Last month, shortly after the law was approved by the Ministerial Committee for Legislation, a spokeswoman for the State Department expressed hopes that it will not be passed.
She said that the bill "would represent an unprecedented and troubling step that is inconsistent with prior Israeli legal opinion and breaks non-standing Israeli policy of not building on private Palestinian land."
On Monday, shortly after the bill passed its preliminary reading, the UN's envoy to the Middle East, Nickolay Mladenov, blasted the legislation, claiming it "has the objective of protecting illegal settlements built on private Palestinian property in the West Bank."
"It is a very worrying initiative. I encourage Israeli legislators to reconsider such a move that would have far-reaching legal consequences across the occupied West Bank," added the envoy.
He also warned that the legislation could "greatly diminish the prospect of Arab-Israeli peace".