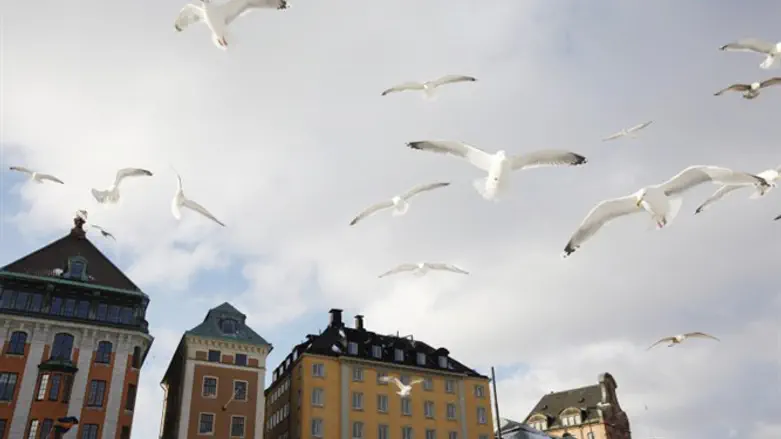 Stockholm, capital of Sweden.
Flash 90
Sweden's far-right party Sweden Democrats announced on Monday it had kicked out one of its members of parliament for anti-Semitism.
Anna Hagwall had in September proposed legislation to end state subsidies for media outlets that she said favor the Bonnier media group, whose controlling family has Jewish roots.
"For many years the Sweden Democrats have been working resolutely to end the currents of anti-Semitism and conspiracy theories in society," the party's chairman Jimmie Akesson said in a statement quoted by AFP.
"Through her statements, Anna Hagwall prejudiced this work and the party's image. Anna wants legislation in which people are divided by ethnic appearances. We don't support that," added Akesson.
The Sweden Democrats (SD) have been trying to distance themselves from some of their most radical elements in order broaden their electoral base.
Hagwell had sent an email to the Aftonblat newspaper in September trying to justify her position.
"It should not be allowed for any family, ethnic group or enterprise to control directly or indirectly more than five percent of media," she said.
The Bonnier group owns 175 companies, including television stations, newspapers, magazines and book publishers, and operates in 15 countries.
Pushed by her party to resign, Hagwall had refused but did promise not to stand for re-election in 2018. That wasn't enough to appease her party's top brass.
Officially, the anti-immigration SD espouses a zero tolerance policy towards xenophobia, racism and anti-Semitism.
But it has a fringe group of neo-Nazi supporters undermining the SD's attempts to clean up its image.
In October, Prime Minister Stefan Lofven branded the far-right party "nazi and racist".
The SD's popularity continues to grow at a time when right-wing populist parties are enjoying a resurgence across parts of Europe.
The last opinion poll carried out by the national institute of statistics gave the SD a predicted 17.4 percent of the vote at next year's elections, up 4.6 percent from 2014 when they picked up a best-ever 49 of the 349 parliamentary seats.
Europe in general has seen a sharp rise in anti-Semitism in recent years, and Sweden is no exception.
Last year, Swedish public radio apologized after a presenter questioned the Israeli ambassador about the responsibility of Jews for anti-Semitism, in the wake of the shooting of a Jewish man in neighboring Denmark.
The incident occurred when a journalist for Sveriges Radio (SR) asked Israeli ambassador Isaac Bachman on air, "Are Jews themselves responsible for the progression of anti-Semitism?"
The ambassador said he rejected the question, explaining "there was no reason to ask this question."
The station removed the program from its online archive and later issued a full apology.
Also last year, a large anti-Israel demonstration in the country featured calls to "slaughter the Jews" and chants praising the stabbing of innocent Israelis.