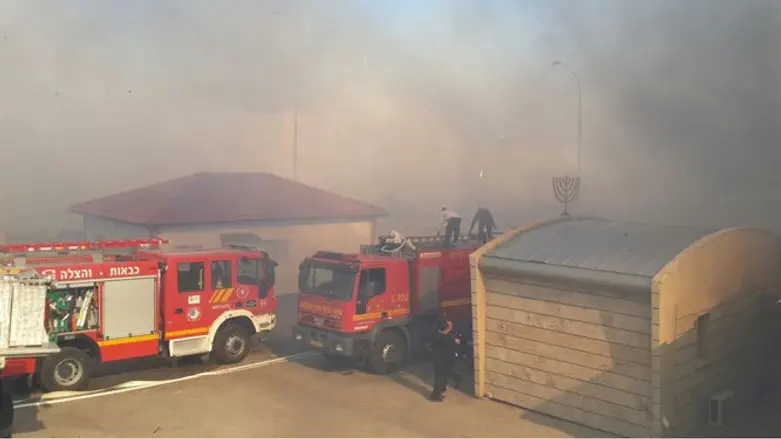 Illustration
Fire Department
The dry and windy weather which facilitated the spread of the fires around the country over the past week may have had Israelis praying for rain, but Professor Leah Wittenberg, an expert on soil erosion and forest fires from the University of Haifa, cautions that the rain could cause its own problems.
"Haifa, because its surface is impermeable, unlike in open areas [which are not paved], strong rains do not penetrate [the ground] and instead create runoffs." Prof. Wittenberg said. "There remains a large amount of ash and other pollutants on the ground which may drift into the runoff, causing flooding, damage to drainage systems, and additional damage to nature."
"According to the National Weather Service forecast, a rain storm is supposed to hit the region on Wednesday and strengthen towards the end of the week." she continued. "This can lead to flooding and damage to areas which have been burned and to those adjacent to them as a result of the pollution in the urban runoff. The concern is the damage to the infrastructure, ecological systems, and the eventual contamination of seawater flows."
Another issue that has been raised is the renewal of the natural environment in open areas which were burned down in the fires. After the Carmel Forest fire of 2010, authorities say that the flora (plant-life) and fauna (animals)of the forest rebounded quickly. The proximity of damaged fauna to the cities this time is a factor that could delay nature's recovery. "Urban systems may be different from the ones familiar to us." Prof. Wittenberg explained. "In Haifa the normal species interact with special from the herbal gardens. The ground is different from [ground with] natural characteristics...We have yet to learn and cannot draw conclusions from experience gained in open spaces (on what will happen) in urban spaces."