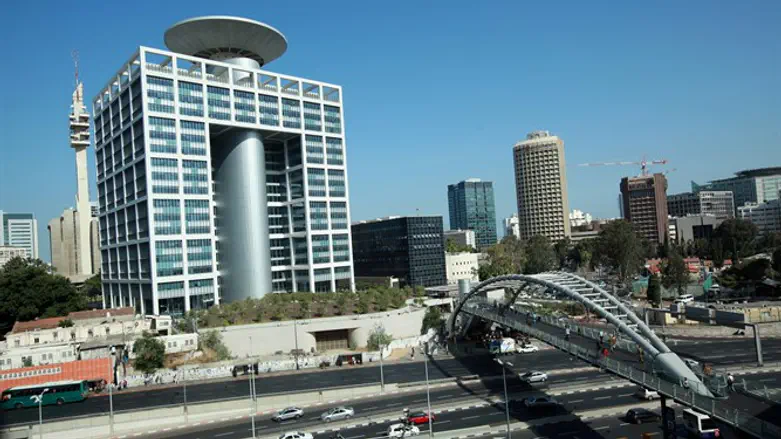 Defense Ministry headquarters in Tel Aviv
Moshe Shai/Flash 90
Mushir al-Masri, a Hamas lawmaker and one of the leaders of the terrorist group, announced on Saturday that Hamas has thousands of rockets capable of striking Tel Aviv and localities to the north of Tel Aviv.
Speaking at a rally held by Hamas in Gaza, Masri claimed that "any future war of the occupation against the Izz al-Din al-Qassam military wing of Hamas will result in the shelling of Tel Aviv and north of it."
He further declared that Gaza "is a thorn in the throat of the Zionist dream to establish a Greater Israel stretching from the Nile to the Euphrates" and claimed that Israel does not know which types of weapons Hamas is hiding.
Masri also said that "the occupation has crossed all the red lines, and the last one preventing the sound of the call to prayer in mosques in Jerusalem and in the internal occupied territory," a reference to the "Muezzin Law", which would prohibit mosques from using loudspeakers for the call to prayer which disturbs the sleep of Israelis in the early hours of the morning.
"Israel seeks to destroy the Al-Aqsa Mosque and build an imaginary temple instead," claimed Masri, "but the heroes, men and women oppress death and protect the mosque."
The Hamas leader also had something to say about the wildfires that have broken out throughout Israel over the last few days and which were caused, in part, by Arab arson.
"The fires that broke out in various parts of occupied Palestine are an outrage from heaven against the Zionists...this is the harsh punishment against which God had warned all those who desire to prevent the prayer or the call to prayer at the Al-Aqsa Mosque or to attack the mosques," he claimed.