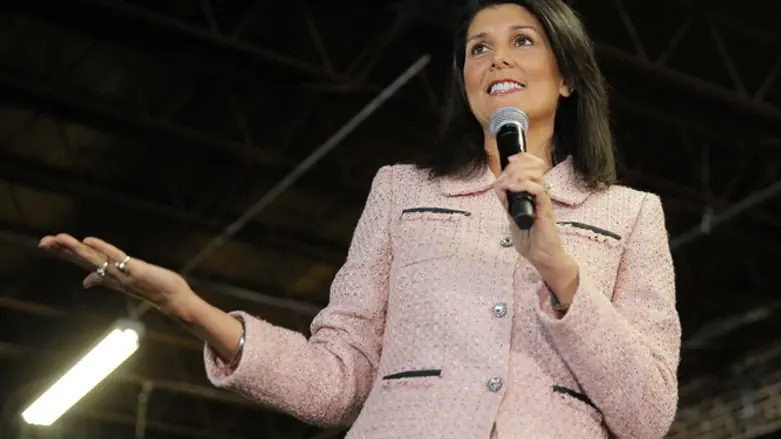 South Carolina Governor Nikki Haley
Reuters
President-elect Donald Trump announced that the US ambassador to the UN will be South Carolina Governor Nikki Haley.
Haley, now in her second term as governor, is a former member of the House of Representatives.
Israel supporters in Washington praised the pick, citing her pro-Israel, anti-BDS bona fides.
The Republican Jewish Coalition called the choice "brilliant".
South Carolina Senator Lindsey Graham, an ardent backer of the Jewish state, said that as the US Ambassador to the UN, Haley would go a long way in "reassuring" Israel.
"Governor Haley is a strong supporter of the State of Israel," Graham said. "Her presence as Ambassador will be reassuring to all those who are concerned about the increasing hostility of the United Nations toward Israel."
Last year South Carolina was one of the first two states to pass a law banning participation in BDS activities against Israel.
The law did not specify Israel and referred to those who initiate boycotts based on "race, color, gender or ethnicity". However the congressional representative who proposed the law, Alan Clemmons, stated that BDS reflect the tactics used by the Nazis and said it intends to "hurt our great ally Israel".
In January this year Haley responded in the name of the Republican party to the annual presidential address of Barack Obama. In her speech she promised that if her party would return to the White House, it "would make international agreements that were celebrated in Israel and protested in Iran, not the other way around."
In announcing her appointment despite the differences of opinion between them during the presidential campaign and her opposition to his candidacy during primaries, Trump cited her ability to "close deals" ,stating that we are going to make a lot of deals."