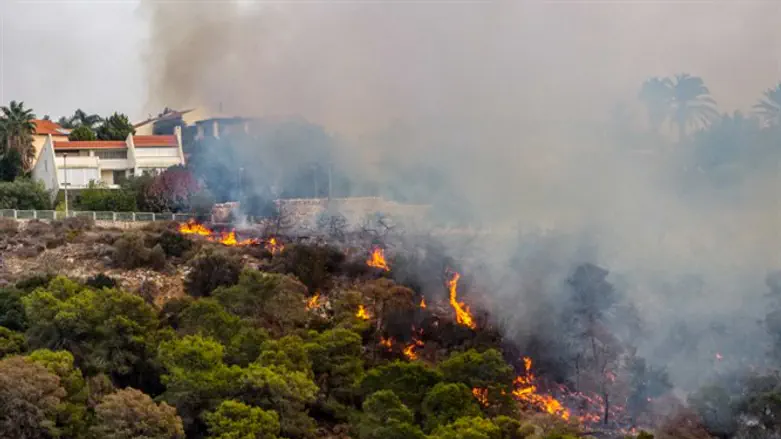 Zichron Yaakov fires
Meir Vaknin/Flash 90
Public Security Minister Gilad Erdan and police commissioner Roni Alsheikh have decided to significantly increase the police presence in open areas to deter arsonists.
Arson is suspected in a number of the wildfires that have broken out around the nation. Other fires are believed to have been started through negligence. Police have begun an intensive investigation into the causes of all of the fires.
It is hoped that the increased police presence will deter arsonists and protect communities from further fires. Hundreds of residents have been forced to evacuate from their homes as the fires approached their communities.
Earlier, Prime Minister Binyamin Netanyahu said that there were signs that arson was involved in several of the fires.
"There are signs of natural fires, and there are also signs of arson." the Prime Minister said. "But obviously the weather produces the opportunity for the fire to multiply and to spread. What was a small thing suddenly becomes a large fire."
The weather has been warm, dry, and windy - all of which have been blamed for the difficulties authorities have faced in containing and extinguishing the wildfires.
"So we need to act on all fronts." Netanyahu continued. "These [weather] conditions are coming to an end. Probably not tomorrow, and maybe not the say after. So we are preparing multiple ways of dealing with this problem."