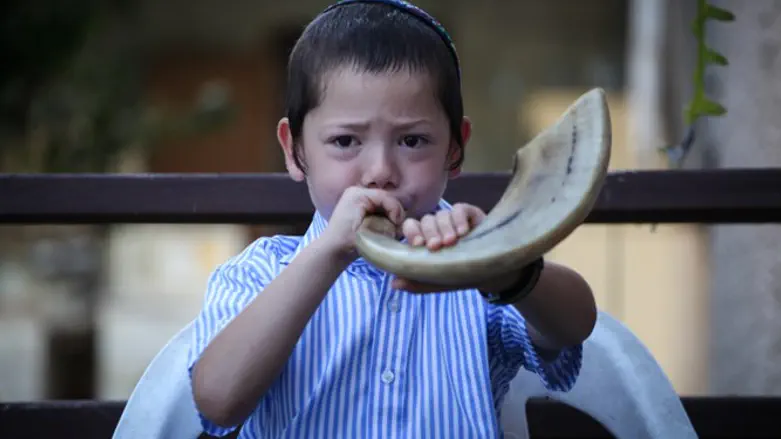 Moshe Holtzberg
Israel news photo: Flash 90
Eight years ago, when Moshe was barely two, his parents Rivka and Gabi Holtzberg were horrifically murdered along with six other people, by a group of terrorists in their Chabad House and home in Mumbai, India.
Moshe himself was saved by his Indian nanny, Sandra, who managed to escape the scene holding him in her arms. After the attack, he and his nanny were brought to Israel, to live with Moshe's maternal grandparents, Shimon and Yehudit Rosenberg.
Sandra lived with Moshe and his grandparents until Moshe was 7, when she moved to Jerusalem to work with mentally challenged children, but visits Moshe every Saturday night, and calls him on the phone every evening.
"Once I said I'd stay with Moshe until he turned five, then I said I'd stay with him until he turned ten. Now I say until his bar mitzva. We just can't stand to be separated," Sandra said.
"Moshe wants to be a normal kid, just like everyone else," Yehudit said. "He told us outright, 'I don't want anyone to treat me like a pity case or an orphan, I don't need pity.'"
"The psychologist told us that everything Moshe went through has been stored in his brain, in a black box, and he's not ready for anyone to open it by surprise. That's his right. We try not to talk about what happened, but once a year, reality hits and the memories come back, as if it was only yesterday," Yehudit explained.
"And that's what's happening now," sighed Shimon. "The massacre happened on November 26, but we go by the Jewish date, the first of Kislev. Next Thursday we'll go to the Mount of Olives [cemetery - ed.] to mark 8 years from the tragedy, and the next day, Friday, the second of Kislev, is Moshe's tenth birthday. The psychologist suggested I start preparing him. Yesterday we sat comfortably on the couch and I said, 'Moshe, you know the memorial is in less than two weeks?' I told him that next Thursday he won't go to school, or he'll leave school early so we can go to the cemetery, and I saw the wheels in his head turning. He jumped up and said, 'Zeidy [grandfather - ed.], does that mean my birthday is the next day, on Friday? I don't want to celebrate my birthday on Friday!'
"Friday is a short day at school, and his teacher only takes half an hour for birthday parties. Moshe said, 'I want a big birthday party!' I promised him he'd have a small birthday party in class, and on Sunday afternoon we'll invite the entire extended family for a huge birthday party."
"He's a son-grandson," Yehudit said. "Our eldest grandson is 20, but I feel like Moshe is my son. G-d gave us the important mission of raising him the way his parents would have wanted to raise him, and we pray that we're doing it successfully, that we'll be healthy and have the energy and wisdom to educate Moshe the right way, so that he'll continue the chain. His parents are no longer with us, but from their place in Heaven, they still want Moshe to continue in their path."
"Last year, when we were at the cemetery reading Tehilim (psalms), Moshe ran away and I ran after him," Shimon said. "He was standing by the fence, staring at the view, and I understood he wanted to escape reality. I called him over only when the time came for him to say Kaddish. Yesterday, when I reminded him we need to go to the cemetery in two weeks, Moshe suggested we pray early, at 5:30am, because at the regular minyan [quorum of ten men needed for prayer - ed.] there 'are too many people and too many eyes.' Last year we flew to New York, for the shluchim's convention. Moshe was invited as a representative of Mumbai. He was very excited and very nervous, but at the end he went up on stage and read Tehilim in his parents' memory in front of 5,000 people, without embarrassment or fear. How did that miracle happen? It's because of the energy and love the Lubavitcher hasidim heaped on him."
"Moshe used to ask, 'Why did G-d do this?' and his grandfather would just hug him and say, 'I don't know, but just because we don't know the answer, doesn't mean we're less connected to G-d. We believe that everything is from G-d and everything is good,'" Yehudit continued. "Today, those unanswerable questions have been replaced with little ceremonial acts: every day Moshe gives tzedaka [charity - ed.] in his parents' merit, and every evening when he goes to bed, he looks at the picture of his parents on the wall and said, 'Good night Mommy, good night Daddy.'"
For Moshe's tenth birthday, he asked for a comic book, and an Avraham Fried CD.
Sandra said, "Moshe looks serious, but he's a ball of energy. I hope I can lead him to the marriage canopy when he's 22."
Shimon added his hopes that Moshe will be a Chabad emissary when he grows up. "Preferably in Israel," he emphasized.
Israeli President Reuven Rivlin recently expressed his plans to visit Mumbai's Chabad House on his official visit to India this month, to light a candle in memory of those murdered in the 2008 terror attack.