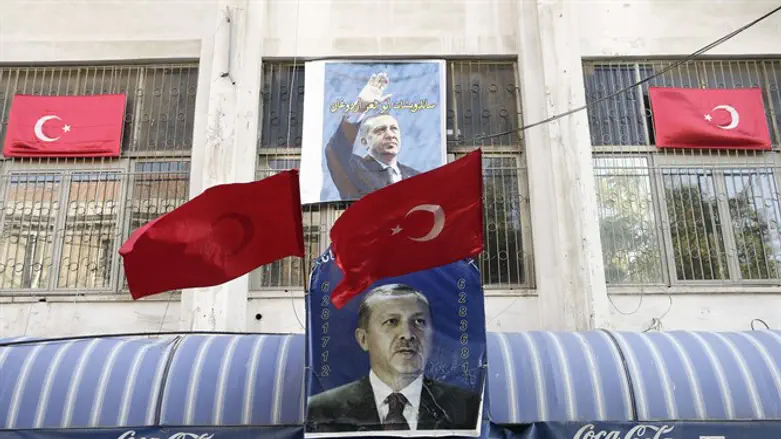 President Erdogan reasserts authority in Turkey
Flash90
Turkey has appointed a foreign policy advisor to the Prime Minister to serve as ambassador to Israel, sealing the normalization of diplomatic relations after a six-year partial rupture, President Recep Tayyip Erdogan said on Wednesday.
Ties between Israel and Turkey were severed following the attempt by a vessel carrying Turkish Islamist radicals to break Israel's security blockade on the Gaza Strip.
The encounter turned deadly when Islamists onboard attacked and wounded IDF commandos sent to gain control of the ship. Israeli forces opened fire on the attackers, killing 10. The incident prompted Ankara to expel the Israeli envoy and cease all military cooperation with Israel.
Israel and Turkey agreed in June to normalize ties after the Jewish state agreed to establish a $20 million compensation fund for the families of the assailants killed during the 2010 incident, and gave permission for Turkish aid to reach Gaza through Israeli ports.
"We are appointing our Prime Minister's (Binali Yildirim) foreign affairs advisor Mr. Kemal Okem as ambassador (to Israel)," Erdogan said before leaving on a trip to Pakistan.
"I believe he started office yesterday (Tuesday)," he added.
Israel also nominated a new ambassador to Turkey on Tuesday, with Eitan Naeh formally selected by an Israeli government committee.
Contacted by AFP, an official for the Israeli embassy in Ankara said the new Israeli envoy has not yet started but he is expected to take up office soon once the approval process is finalized.
Naeh is the current deputy head of mission at the Israeli embassy in London.
The two sides are already working to bring cooperation back to former levels and are holding talks for building an ambitious project for a pipeline to pump Israeli gas to Turkey and Europe.
The state-run Anadolu news agency said on Tuesday that Israeli and Turkish energy officials held their first working meeting on the project last week.
AFP contributed to this report.