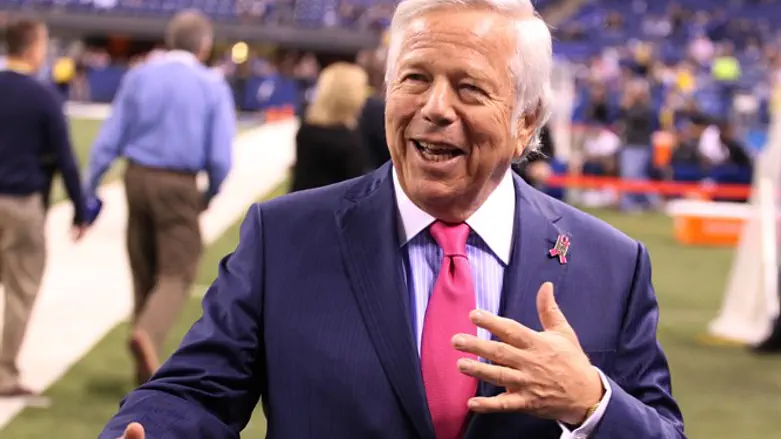 Robert Kraft
Reuters
Robert Kraft, owner of the New England Patriots and a noted Jewish philanthropist, has donated $6 million to create the Kraft Family Sports Campus in Jerusalem.
The contribution is to "advance Jerusalem as an International sports hub," the office of Jerusalem Mayor Nir Barkat said in a statement issued Tuesday announcing the gift.
The contribution is part of the celebration of the 50th anniversary of the reunification of Jerusalem and the 20th Maccabiah Games, which will be hosted in Jerusalem in July 2017.
The campus will be located in Emek Ha'Arazim in northwest Jerusalem.
The Kraft Family Field in Sacher Park in Jerusalem already plays host to American football played in Israel.
"The Kraft Family Sports Campus is a central part of my vision for Jerusalem as an international capital of sport and athleticism," Barkat said. "My dear friend, Robert Kraft, has been an unwavering partner in the growth and development of Jerusalem. This gift, which helps celebrate the 50th anniversary of Jerusalem's reunification, furthers Robert and his family's commitment to the capital of Israel, and to enhancing sport and particularly football in Jerusalem."
"The Kraft Family Sports Campus allows me to invest in two things that I have always been very passionate about: My love of Israel and my support for youth athletics and team sports, especially American football," said Kraft.
He added that team sports "help unify those who might otherwise be divided by cultural differences," and are "proven to develop leadership."
The Kraft Family Sports Campus is being established in collaboration with the Jerusalem Foundation and the Jerusalem Development Company – Moriah. The Campus will include soccer fields, a dual-use U.S. regulation football and soccer field, locker rooms and administrative offices, a central pedestrian thoroughfare, parking and an access road, with plans to add other facilities. The campus is scheduled to open in summer 2017.
Kraft, 74, is the chairman and CEO of The Kraft Group, a holding company with assets in paper, packaging, real estate and sports teams. He has donated over $100 million to numerous institutions and organizations, many of them Jewish.