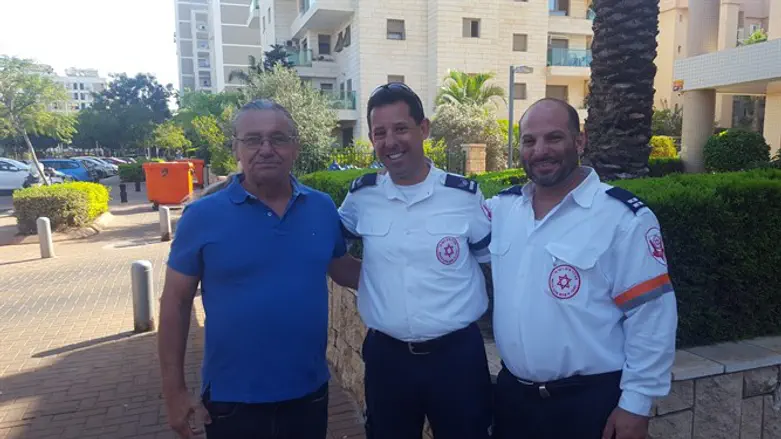 Yaakov Zelaves(left) with MDA vounteers who saved him
Magen David Adom
When Arik Koznitz, an MDA paramedic received a call about a person from his building in Holon who had suffered heart failure, his own heart must have missed a beat. Arik arrived at his building in just two minutes, performed emergency resuscitation procedures and saved the life of his neighbor, Yaakove Zelaves. This week the two met at the spot where Zelaves had collapsed.
The statistics are pretty grim. Just three out of every hundred people who suffer heart failure outside a hospital will return to normal activity without brain damage due to prompt emergency treatment.
Yaakov Zelaves (63) returned home from work on Friday, November 4 when suddenly he felt ill and collapsed meters from the entrance to his building.
Arik Koznit, who was on duty for MDA, said he was surprised to receive a call near his house. "When we arrived we found a volunteer performing first aid. We saw that Yaakov had no pulse and began advanced treatment with medicine, pulmonary resuscitation and electric shocks which restored Yaakov's pulse. We evacuated him to a nearby hospital," said Koznitz

Yaakov's wife who was unaware of the drama taking place outside, went downstairs to walk her dog. When she saw the commotion outside and the MDA ambulance she called her daughter Corelle (19), an MDA volunteer and told her to come and help without realizing who was being treated. It was not long before mother and daughter realized who was being treated.
On Wednesday November 9th, Yaakov was discharged from hospital in full health and with no attendant brain damage. The next day there was an emotional meeting between Yaakov and the MDA team which saved him including his neighbor Arik Koznitz. Yaakov and his family thanked the team for their prompt action.

MDA director Eli Been called on the public to join first aid courses and gain knowledge which could enable them to save lives during the first critical seconds after a person suffers serious injury or heart failure.