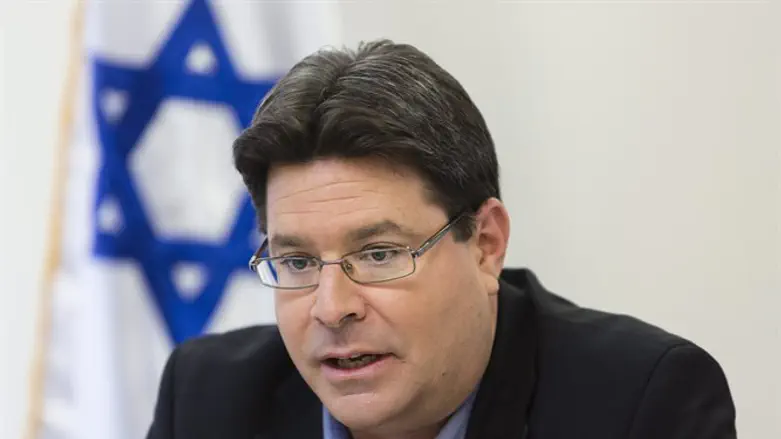 Ofir Akunis
Flash 90
Science and Technology Minister Ofir Akunis (Likud) commented on the ongoing feud between the haredi parties in Israel and the Reform Movement, and said that the proposed compromise reached between the government and the Women of the Wall movement last January remains the best solution to the dispute over the drive to change the status quo at the Western Wall.
"The outline approved by the government is the most balanced proposal." Akunis told radio station Kol Chai.
"I am Jewish, first and foremost. I am a Zionist, I am secular, and I am Orthodox." Akunis said of how he identifies himself. "I get asked, 'what is this "secular orthodoxy?"' I answer (them), at my wedding, at my son's circumcision, and his Bar Mitzva - which is coming up in a few months - I act in accordance with the halacha. But in the matter of the compromise I have thought that it was a good and balanced agreement since I first saw it. That's my opinion."
Akunis also addressed the impact the Reform Movement has on the State of Israel and the loss the movement suffered with Democratic candidate Hillary Clinton's defeat in last week's Presidential Elections in the US. According to various reform publications the community took the election results hard.
"I can assume that many of the Reform (members) voted for the Democratic candidate, just as they have done for many years prior." Akunis said. "Most American Jews usually vote for the Democratic candidate. I do not understand this overwhelming (phenomenon) of the losing side thinking that it is the end of the world."
"I hear the wailing and crying of the opposition that they do not accept the results of the 2015 election (in Israel). They still have not accepted the reversal of '77 (when Menachem Begin's Likud party ended nearly 30 years of uninterrupted rule by the Labor party). If we remember. there was a senior official in the Labor party who said 'If these are the results then I do not accept them."
Speaking of President-elect Trump's promise to move the US embassy to Jerusalem, Akunis said: "I expect that the embassy will be moved to Jerusalem. (Trump's) incredible statement that settlements are not the obstacle to peace and that he will rip up the nuclear deal with Iran are both very significant and dramatic developments."
"What has been will no longer be. I am sure that we won't receive condemnation (anymore) for construction in Judea and Samaria. This is our land."