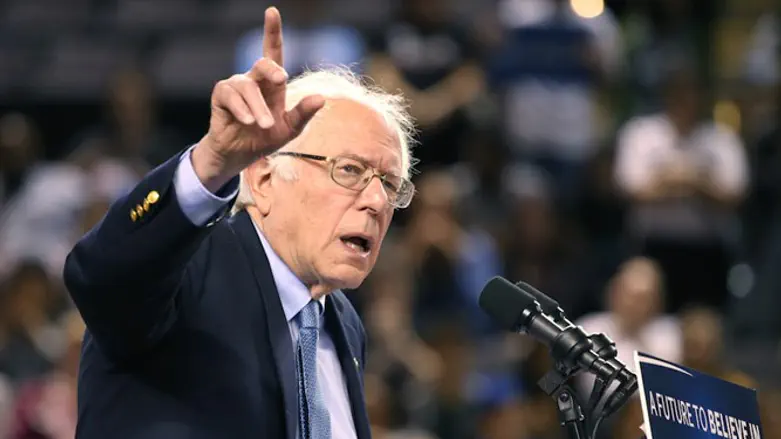 Bernie Sanders at a campaign event in Maryland
Mark Wilson/Getty Images
Two top Jewish figures associated with the Democratic Party, Sens. Bernie Sanders and Chuck Schumer, are backing the candidacy of a Muslim, Rep. Keith Ellison of Minnesota, for the party chair.
Schumer, of New York, in line to be the next party leader in the Senate, is backing Ellison's candidacy, according to anonymously sourced reports Friday in Politico and by NBC.
Sanders, an Independent from Vermont who this year became the first Jewish candidate to win major party nominating contests in his unsuccessful bid to win the Democratic presidential nomination, is also supporting Ellison, according to The Hill, which quoted Minnesota Public Radio.
On board for Ellison as well is Ilya Sheyman, the executive director of the liberal activist group MoveOn and a Jewish immigrant from the former Soviet Union, who emailed a statement of support to reporters.
Ellison, who has indicated he would be interested in the post but has yet to declare, has been a sharp critic of Israel, but also has reached out to pro-Israel groups.
He has organized letters urging pressure on Israel, and was an advocate of drawing lessons from the U.N. Goldstone Report following the 2009 Gaza War – a report Israel dismissed as irredeemably flawed and biased.
Visiting Gaza after the 2009 war with another Congress member, Ellison continued on his own to Israel so he could survey the cost of Palestinian attacks on Israelis. He has pressed Hamas, the terrorist group controlling Gaza, to release the bodies of slain Israeli soldiers at the behest of their families. He has a close working relationship with the Jewish community in Minneapolis.
Sanders named Ellison to the Democrats' platform drafting committee this summer after the senator lost the party nomination to Hillary Clinton, who went on to lose the presidency to Donald Trump. Ellison and two other Sanders appointees argued forcefully for language that would criticize Israel for its West Bank occupation but were rebuffed.
Ellison, the first Muslim elected to Congress, would replace Rep. Debbie Wasserman Schultz, D-Fla., who resigned this summer under pressure after stolen DNC emails were published revealing the animus at top party levels against Sanders' candidacy. Until then, she had been the top Jewish official in the party.
Wasserman Schultz was replaced temporarily by Donna Brazile, a longtime party activist.