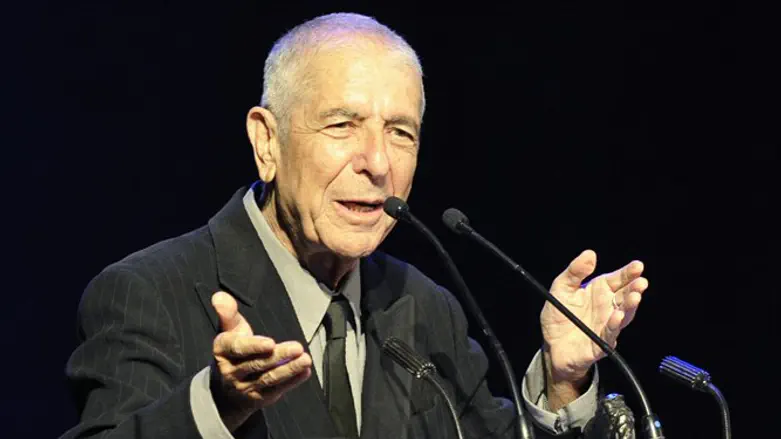 Leonard Cohen
Reuters
As fans around the world were on Friday coming to terms with the death of Leonard Cohen, Israel was treating the Canadian Jewish poet and singer as one of its own.
Israel's main radio stations dedicated hours to Cohen songs while Facebook and Twitter users posted pictures of the artist, links to his songs and quotes of his writings in English or Hebrew.
Prime Minister Binyamin Netanyahu and President Reuven Rivlin were among leading politicians pay tribute to Cohen.
"Thank you for all of what you left us," Rivlin wrote on Facebook.
Cohen was "a great creator, a talented artist and warm Jew who loved the people of Israel and the state of Israel," Netanyahu said on his Facebook page.
"I will not forget how he came to Israel during the Yom Kippur war to sing to IDF (army) soldiers, out of a deep feeling of partnership," he added.
Canadian Prime Minister Justin Trudeau also eulogized Cohen, calling him "a most remarkable Montrealer who "will be fondly remembered for his gruff vocals, his self-deprecating humor and the haunting lyrics that made his songs the perennial favorite of so many generations."
"Leonard, no other artist's poetry and music felt or sounded quite like yours. We'll miss you," said Trudeau.
Cohen, who died at age 82, was born into a prosperous Jewish family that had founded synagogues in Canada and raised by his grandfather who was a rabbi.
His connection to Judaism manifested in his bond to the Jewish state too, most famously during the 1973 Yom Kippur War between Israel and Arab countries.
"I will go and stop Egypt's bullets," he wrote in a poem.
Cohen, who was living on the Greek island of Hydra at the time, left for Israel the day after the war broke out, and in Tel Aviv happened to meet Israeli musician Oshik Levi.
According to Levi's account, Cohen told him he wanted to help Israel by working on a kibbutz -- a collective farming community from which much of the male work-force would have been called up to military duty.
Levi talked Cohen into joining the small group of musicians he had formed to tour the frontlines and entertain the Israeli troops.
Cohen spent some three months doing so, including in the Sinai Peninsula, where he was photographed singing next to then-general Ariel Sharon in a picture circulating on Israeli social media Friday.
While touring for the soldiers in 1973, Cohen wrote the song "Lover Lover Lover," which includes the line: "And may the spirit of this song, may it rise up pure and free. May it be a shield for you, a shield against the enemy."
Cohen dedicated the song to the Israeli as well as Egyptian soldiers who fought the war.
AFP contributed to this report.
(Arutz Sheva's North American desk is keeping you updated until the start of Shabbat in New York. The time posted automatically on all Arutz Sheva articles, however, is Israeli time.)