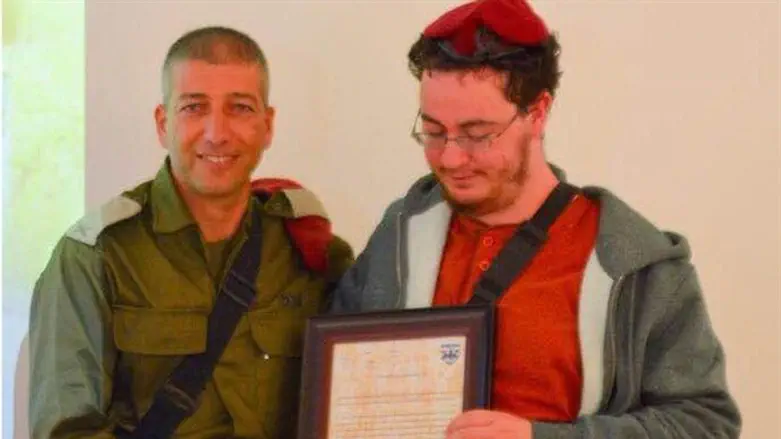 Appreciation to Struck
צילום: דובר צה"ל
Almost a year has passed since a stabbing attack at a checkpoint near Beit Hadassah in the Jewish residential area of Hevron in which a soldier and a civilian were wounded by a knife-wielding Palestinian Arab terrorist.
The civilian, Isaac Struck, showed great resourcefulness and courage when, even though he had been stabbed in the leg, he fought back and continued to struggle with the terrorist until the terrorist was neutralized by IDF forces.
Commander of the Judea and Samaria Division, Brigadier General Lior Carmeli, on Monday awarded Struck with a letter of commendation for his bravery. In addition the platoon commander gave Struck the Division Commander's lapel pin, saying that this pin "embodies all the values that we expect from soldiers, commanders, and offers – values such as friendship, responsibility, personal example, and courage. All of these were evident in the way you fought the terrorist."
IDF sources say that the residents of Judea and Samaria have shown remarkable strength in the face of terror and "have taken part in removing the threats, cooperated with IDF forces dedicatedly. Struck's actions are not to be taken for granted - he put his life in danger, motivated by an internal value system."
'.