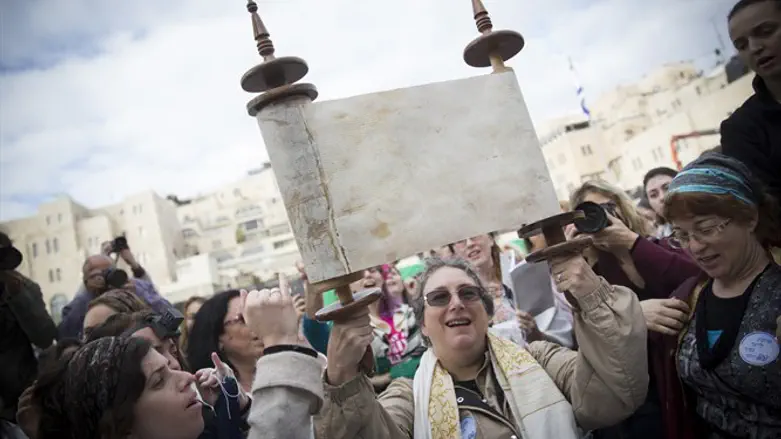 Women of the Wall
Hadas Parush/Flash90
Religious Affairs Minister David Azoulai sent a letter to Attorney General Avichai Mandelblit Thursday asking him to intervene and prevent provocations from occurring at the Western Wall.
The minister referred in his letter to the events yesterday at the Western Wall Plaza when members of the Reform and Conservative movements as well as Women of the Wall entered the Western Wall precinct with Torah scrolls and a police escort, causing a commotion to break out during the prayers for the new month.
"At this ceremony all the red lines were crossed," wrote Azoulai and added "The women's prayer within the women's section involved the participation of men in a way which belittled the prevalent custom and insulted the feelings of the women worshipping there. Additionally, for the first time Torah scrolls were taken by a private person into the Western Wall precincts in violation of official protocol."
Azoulai stated that "The demonstrators created a provocation with the support of police who allowed them to bring in Torah scrolls and did not intervene in their ceremony despite it violating protocol and offending the feelings of the worshippers."
Azoulai added that the goal of the ceremony was to create a provocation, as stated by one of the event's organizers who declared that their intention was to "conquer the Western Wall". He requested that the Attorney General direct the police to use all possible methods to prevent the repetition of such provocations.