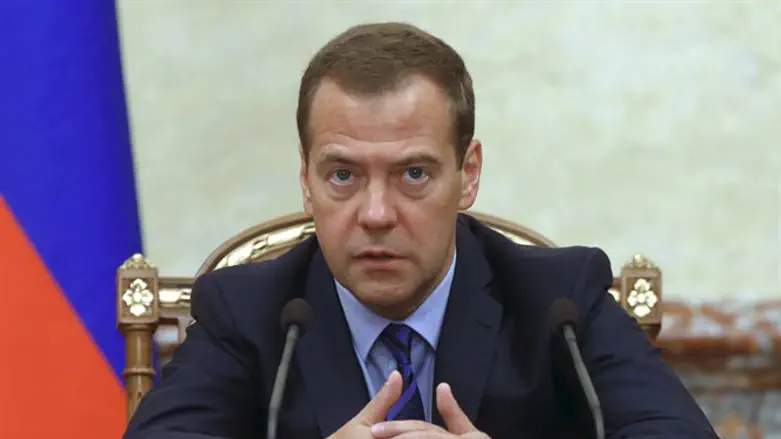 Russian Prime Minister Dmitry Medvedev
Reuters
Russian Prime Minister Dmitry Medvedev is scheduled to visit Israel and the Palestinian Authority (PA) on November 9 with the aim of advancing the peace negotiations between the sides, i24news reported Sunday, citing a report on the PA's official television station.
Medvedev will reportedly meet with both Israeli Prime Minister Binyamin Netanyahu and Palestinian Authority chairman Mahmoud Abbas.
Russia had reportedly announced that Medvedev would arrive in Israel for a two-day visit, slated for November 10-11, and said "a number of bilateral intergovernmental and interagency agreements and documents are due to be signed after the talks."
"During his visit to Israel on November 10 the Russian premier will hold talks with Prime Minister [Binyamin] Netanyahu and meet with Israel's President, Reuven Rivlin," Russia's official TASS news agency reported Friday, according to i24news.
"During the visit [the sides] will discuss ways of strengthening existing forms of cooperation in various fields, with emphasis on the economic and humanitarian sphere, as well as promising new directions," the Russian Embassy was quoted as having said.
Russian President Vladimir Putin recently expressed his willingness to host Netanyahu and Abbas for a meeting to resume peace talks that have been stalled since 2014.
Russia's Foreign Ministry later said that Netanyahu and Abbas had agreed in principle to such a meeting but stressed that no date had been set for one.
Foreign Minister Sergei Lavrov recently stressed his country's willingness to help mediate Israel-PA peace talks – if both sides are willing to compromise.
Netanyahu has traveled to Moscow twice this year to meet with the Russian President, once in April and again in June.
They have held extensive talks on coordination of their activities in Syria, Israeli sovereignty in the Golan Heights, and the Israeli-PA conflict.
So far, Abbas has continuously placed preconditions on talks and has also insisted that any reboot of peace talks with Israel should happen within a clear timeframe and under international supervision.
Netanyahu, for his part, has called on Abbas to come to meet him face-to-face, which Abbas has refused.