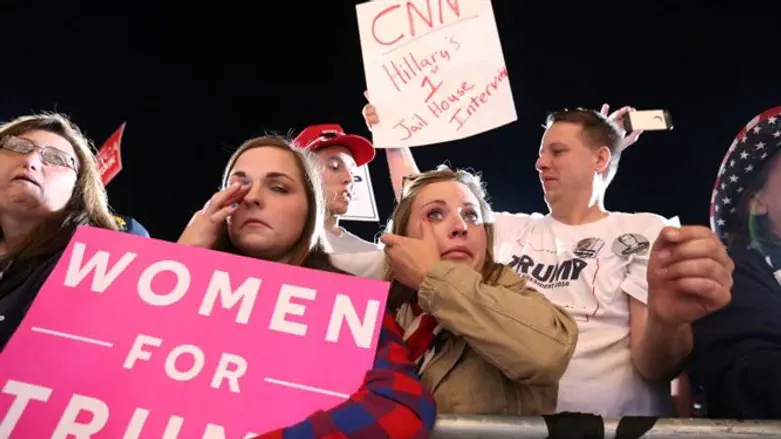 Tears of joy at Trump rally.
Reuters
The FBI's decision to review new emails related to Hillary Clinton's use of a private email server is reinvigorating Donald Trump's campaign and demoralizing Hillary Clinton's.
"What happened today, starting with the FBI, maybe the system will become a little less rigged. Beautiful," the Republican nominee said Friday night. "The FBI would not have reopened this case at this time unless it were a most egregious offense," Trump added, at a rally in Cedar Rapids.
"This changes everything," he said a short time later in a brief interview.
The applause and chants of "Lock her up!" at Trump's three rallies Friday made it clear that his supporters were elated by the news, which came as poll numbers showed the race once again tightening.
Clinton was caught off-guard by the news, which broke as she was flying with her campaign aides and reporters in her plane. She reacted to the FBI announcement during a brief news conference Friday afternoon, urging the FBI to release "full and complete facts immediately."
"The director himself has said he doesn't know whether the emails referenced in his letter are significant or not. I'm confident, whatever they are, will not change the conclusion reached in July. Therefore, it's imperative that the bureau explain this issue in question, whatever it is, without any delay," Clinton said.
The New York Times reported that the news of the renewal of the FBI probe "set off a frantic and alarmed scramble inside Mrs. Clinton's campaign and among her Democratic allies."
"We just don't know what this is all about, which is worrisome," said former Senator Tom Harkin of Iowa. "We have to see what news comes in the next three or four days before we can say if this will make a real difference with voters."
But Harkin and other Democrats expressed concern about the possible impact on Clinton's ability to govern if she won the presidency while still under investigation."I don't think there would be a constitutional crisis," Harkin said, "but of course, you never know."
On Friday, Trump welcomed the renewed FBI probe and said he has "great respect" for the FBI's courage to "right the horrible mistake they made."