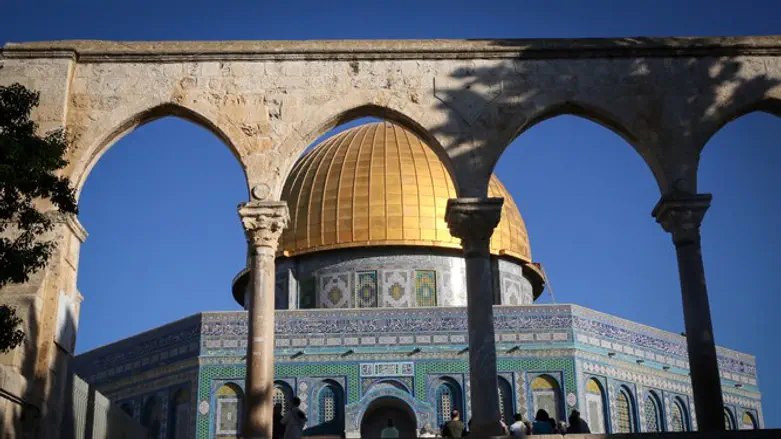 Temple Mount
Yossi Zamir/Flash 90
After passing a resolution denying any Jewish connection to Jerusalem, the UN's cultural agency UNESCO is planning to vote on another similar anti-Israel resolution.
Arab states on Saturday presented a watered down version of a new resolution denying the connection between Judaism and the Temple Mount. A vote on the latest resolution is expected at UNESCO's Heritage Committee on Wednesday.
The latest proposal was submitted by Kuwait, Lebanon and Tunisia in the name of the Palestinian Authority and Jordan, who are not members of the committee. 21 countries are expected to vote on the resolution and at least 10 of them are Arab countries which act against Israel or do not have diplomatic relations with Israel.
The watered down version drops the words "occupying power" in relation to Israel, in an attempt to soften the resolution's tone and thus make it easier for it to be approved.
In addition, the new version uses the term Western Wall without quotation marks as the original version did.
At the same time, the resolution still includes a denial of the Jewish connection to the Temple Mount. The Temple Mount is mentioned in the resolution as "Al-Aqsa Haram Al-Sharif" and described as place of Muslim worship. The words "Temple Mount" and the fact that the Temple Mount is a holy place for Jews are not mentioned.
The resolution further argues that Israel's archaeological work in the area is "intentional destruction" and calls on Israel to respect the status quo. The document ignores the Palestinian's archaeological excavations underneath the Temple Mount.
Israel's ambassador to UNESCO, Carmel Shama Hacohen, told Arutz Sheva on Saturday night that "the Temple Mount and its historical and religious connection to the Jewish people are the crux of the matter. The Palestinians know that and they are trying to confuse some countries.
"If the Palestinians continue to adhere to this dangerous path which is actually a diplomatic jihad against the Jewish people, Judaism and Christianity, they will discover that the surprises from Mexico and Italy are only the beginning."
The UNESCO resolution ignoring the Jewish connection to Jerusalem was originally approved last week, but the agency later held a revote on the resolution and passed it again after Mexico said it had changed its mind on the issue.
On Friday, Italy's Prime Minister, Matteo Renzi, described the first UNESCO resolution as "incomprehensible and unacceptable" and said he regretted that his country abstained in the vote instead of voting against.