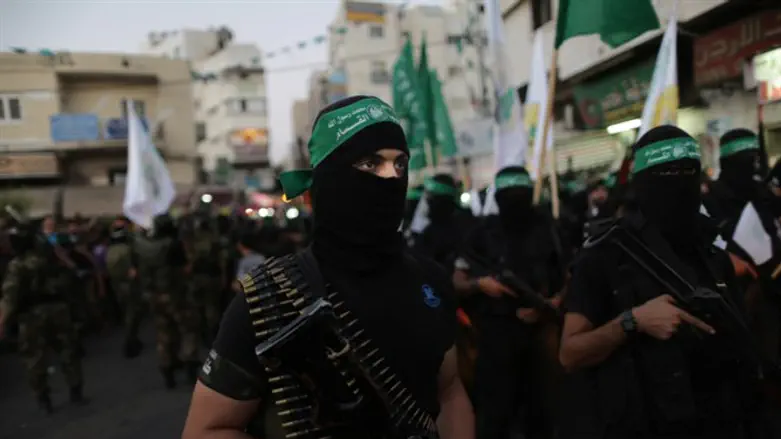 Hamas terrorists in Gaza
Flash 90
A Gaza court on Thursday sentenced a man to 20 years in prison for collaborating with Israel, the Ma'an news agency reported.
The man sentenced was 40 years old and only identified by the initials R.A.
The court had reported that the man had been collaborating with Israel since 2003 and had delivered information to Israel regarding resistance efforts in Gaza, including the locations of military sites that were then shelled by Israeli airstrikes.
The man had reportedly received payment from Israeli authorities in exchange for the information, according to Ma'an.
Courts in Hamas-run Gaza regularly sentence locals to death for spying for Israel. In July, a military court in Gaza sentenced three local residents to death after they were convicted of providing information to Israel's security services.
The trial of the alleged "spies" was held behind closed doors and without the presence of the media.
Under Palestinian law, collaboration with Israel is punishable by death. All death sentences, however, require the approval of Palestinian Authority (PA) chairman Mahmoud Abbas, who issued a moratorium on death sentences in 2005.
Hamas ignores the moratorium and carries out the executions anyway, as it no longer recognizes the legitimacy of Abbas, whose four-year term expired in 2009.
Amnesty International has previously called on Hamas to stop the executions of suspected collaborators, saying that the group "must immediately and totally cease its use of the death penalty."
The Palestinian Center for Human Rights (PCHR) recently condemned the executions as well, calling them "excessive" punishment and adding that "civilians should not appear before military courts."