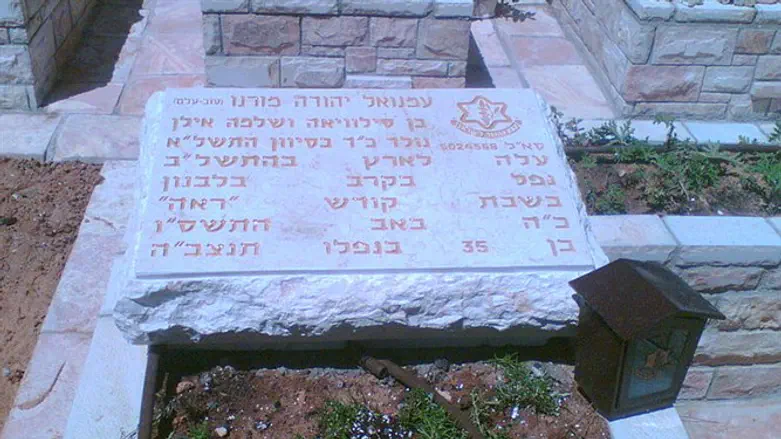 Lieutenant-Colonel Emmanuel Moreno's grave
מתוך ויקיפדיה
Three IDF orphans were called to the Torah yesterday and received their tefillin in an emotional ceremony from the Organization for IDF Widows and Orphans that did not leave a single eye dry, according to Yedioth Ahronoth.
The three fathers, Emmanuel Moreno, Nimrod Segev, and Natan Yahav, fell in battle during the Second Lebanon War,
With shining eyes, Nerya, the son of Sayeret Matkal hero Lieutenant-Colonel Emmanuel Moreno, held his tefiilin. Even though ten years have passed, Morano's picture is still not allowed to be publicized, because of the secret missions he was sent on during his lifetime.
"Many people come and tell me my father was Superman, superhuman. For me he was just a person, a dad. I'm sure he's proud to see me in tefillin," Nerya Morano said.
"I'm very grateful to all the people. I was moved to tears. Emmanuel was a modest man who did his part in full faith and had self-sacrifice for his job his mission. He was a happy person, a believer," said Maya Ohana-Morano, Emmanuel's widow and Nerya's mother.
Nimrod Segev's son Omer Segev, received a warm hug from the chief army rabbi after putting on his tefillin.
"I intend to put tefillin on every day. I've waited for this for years," Omer said. "They say my father was a good person, and was always happy to help others," he added emotionally.
"From the moment they told me that Nimrod was killed, I wondered how I would reach this day. Omer has blossomed into a man with a lot of pain and emotion. I think Nimrod would be as emotional as me," Iris, Nimrod's widow and Omer's mother said to a newspaper.
Every year, the IDF Widows and Orphans Organization holds a joint bar and bat mitzva event for the children of fallen soldiers. This year, 32 sons and daughters of fallen soldiers and other security forces participated in the ceremony, celebrating their unique pain and hardship mixed with joy.