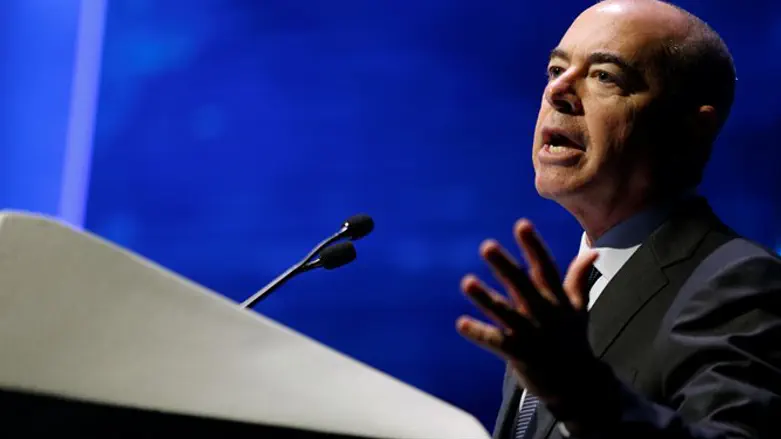 Alejandro Mayorkas
Reuters
Alejandro Mayorkas, the deputy Homeland Security secretary who works closely with the Jewish community on security issues, is stepping down.
Mayorkas, who is Jewish, said Wednesday that he will be leaving the department on Oct. 28. According to The Wall Street Journal, he has signed on with Wilmer Cutler Pickering Hale and Dorr, a law firm that is known for hiring senior government officials.
Mayorkas has played a key role in consulting with Jewish community security officials, through the Secure Community Network, an arm of the Jewish Federations of North America. He also has helped secure security grants for nonprofit institutions.
The overwhelming number of grantees is Jewish, and Mayorkas last month told an Orthodox Union conference in Washington that this was because U.S. Jews face a unique threat.
"The need is most acute in the Jewish community because of the ascension of anti-Semitism and hate crimes we see," he said.
Nathan Diament, the Washington director for the Orthodox Union, which leads lobbying for the security grants alongside the JFNA and Agudath Israel of America, said he would miss Mayorkas.
"Mr. Mayorkas was very responsive to the concerns of the Jewish community," Diament told JTA.
Mayorkas, a Cuba native, is the son of a member of that island's small Sephardic community. His mother is a Romanian Holocaust survivor, and Mayorkas has said her sense of peril after surviving the genocide helped inform his worldview.
Mayorkas' colleagues praised him for his nearly three years at the agency.
"Just as the more than 240,000 employees of DHS around the world have benefited from his example and his leadership, America, too, is better off for Ali's focused, effective work -- from cybersecurity to his efforts on aviation security and counterterrorism," said Lisa Monaco, the top White House counterterrorism official, in a statement.
Jeh Johnson, the secretary of Homeland Security, called Mayorkas a "true patriot."
"Ali's positive attitude has helped pick me up and given me the strength to carry on," he said in a statement. "In the face of the extraordinarily difficult issues we face, Ali has been our happy warrior."