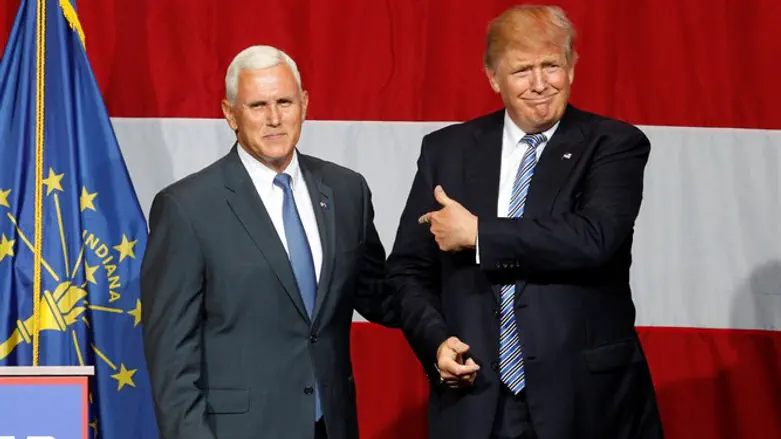 Donald Trump with Indianan Governor Mike Pence
Reuters
After a week of declining poll numbers following the first presidential debate of the 2016 season, Republican nominee Donald Trump received a welcome boost late Tuesday night following the only vice presidential debate of the election.
Trump's VP, Indiana Governor Mike Pence, faced-off against Virginia Senator and former Governor Tim Kaine, sparring on illegal immigration, law enforcement, the economy, Clinton's email scandals, religious freedom, and foreign policy.
Pence ripped Kaine over his boycott of Israeli Prime Minister Binyamin Netanyahu's address to Congress last year and the Democratic ticket's support of the Iran nuclear deal.
"You keep saying that Hillary Clinton started the deal with the Iranians, prevented them from getting a nuclear weapon," said Pence. "That is not what Israel thinks."
"I know you boycotted Prime Minister [Binyamin] Netanyahu's speech. When I was in congress, I fought hard on a bipartisan basis with Republican and Democrat members to move forward the toughest sanctions literally in the history of the United States."
While voters were divided, according to a scientific CNN/ORC poll conducted immediately after the debate, a narrow plurality of viewers say Pence came out on top. Forty-eight percent of respondents say Pence won the debate, compared to 42% who say Kaine performed better.
That's good news for Trump, who has struggled in the polls over the past week.
After Tuesday night's debate, 29% of voters said the VP match-up would make them more likely to vote for Trump, compared to just 18% who said it would make them more likely to vote for Clinton..
Pence also scored well in an Ohio focus group conducted during the debate. Participants in the focus group said the Republican vice presidential nominee praised him as being "calm", composed", "effective", "polished", and "eloquent."