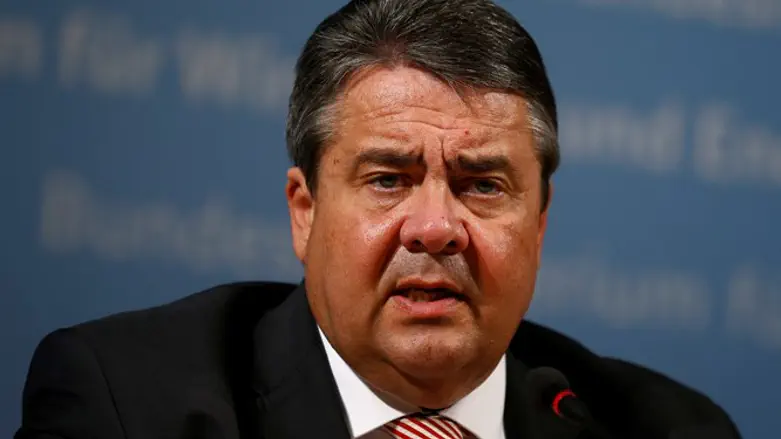 Sigmar Gabriel
Reuters
Two Iranian officials have cancelled meetings with German Vice Chancellor and Economy Minister Sigmar Gabriel following his recent call on Iran to recognize Israel, the Fars news agency reported Tuesday.
The two officials are Iranian Foreign Minister Mohammad Javad Zarif and Parliament Speaker Ali Larijani, according to the semi-official news agency.
The two top Iranian officials avoided their meetings with Gabriel after he told the Der Spiegel magazine before a visit to Tehran that Germany could not normalize ties with Iran until it recognizes Israel.
Gabriel made similar remarks during a previous visit to Iran last year, when he said Iran must recognize Israel in order to have economic relations with Germany.
"Questioning [Israel's] right to existence is something that we Germans cannot accept," he said at the time.
Late last week, a spokesman for Iran's Foreign Ministry made clear that the Islamic Republic would "never" recognize Israel as a precondition for normalizing ties with Germany.
"Ties between Iran and Germany are based on mutual respects and interests, and no precondition would be acceptable in this regard," the spokesman, Bahram Qasemi, said.
"Iran considers defending the rights of the people of Palestine as a principle of its foreign policy and will never and under no circumstances will forsake the Palestinian cause," he added.
Iran's Judiciary Chief Sadeq Amoli Larijani had called on the foreign ministry to ban Gabriel's visit to Tehran.
"The German economy minister has made incorrect and illogical comments and said that if Iran wants to open way for trade interactions, it should recognize Israel. Apparently, he is asleep and doesn't know that Iran has tolerated abundant pressures for the sake of its beliefs for over 30 years to resist against such demands," Larijani said, according to Fars.
Stressing that Iranian officials don't allow such people to interfere in the country's internal affairs, he said, "Were I in the place of the government and the foreign minister, I would not allow this minister (Gabriel) to visit Iran."