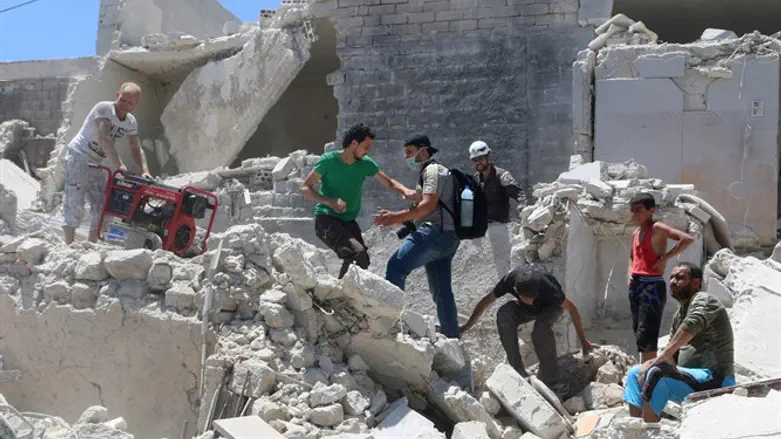 Site of regime bombing in Aleppo
Reuters
American agencies are considering "diplomatic, military, intelligence and economic options" to deal with the crisis in Syria, an official said Tuesday, while stressing the need for a "political resolution."
Top U.S. security and foreign policy chiefs are to meet Wednesday to review their options to present to President Barack Obama, after abandoning attempts to work with Russia to impose a truce.
State Department spokesman Mark Toner confirmed that some military options might be discussed, but said Secretary of State John Kerry is still working hard to pursue the diplomatic track with allies.
"Just because we've temporarily suspended the cooperation that we had bilaterally with Russia on Syria doesn't mean that we've closed any doors on multilateral action," Toner said.
U.S. officials say that any new economic sanctions on Russia or Syria would be more effective if applied internationally. Senior U.S. and European officials will meet on Wednesday in Germany.
"We're examining closely our approach going forward," Toner said of the internal government debate in Washington.
"And in that regard, the departments/agencies are discussing diplomatic, military, intelligence and economic options, and we'll all have these discussions going forward.
"But essentially our view remains the same," Toner said. "Our stress is still on a political resolution."
U.S. forces are deployed in Syria and Iraq leading an international coalition fighting the Islamic State group, but the White House has resisted pressure to be drawn into the Syrian civil war.
Russian forces are there backing Syrian strongman Bashar Al-Assad's forces in their battle against the rebels, some of them supported by the U.S.
Last month, a U.S.-Russian effort to broker a ceasefire collapsed amid mutual recrimination and Assad's forces backed by Russian air power launched an assault on rebel-held eastern Aleppo.
United Nations aid chief Stephen O'Brien expressed alarm last week at the ongoing fighting in Aleppo following the latest assault, warning that the city faces a humanitarian catastrophe "unlike any" witnessed so far in Syria's brutal five-year war.
Toner on Tuesday said Washington had walked away from the deal with Russia "with frustration, outrage and sadness," but said it was impossible to pursue it while Russian forces target Syrian civilians.
AFP contributed to this report.