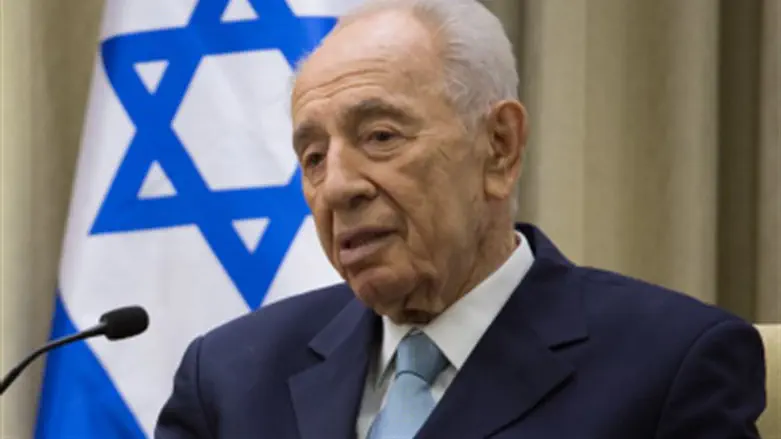 Shimon Peres (file)
Flash90
A dramatic deterioration Tuesday in the condition of former president Shimon Peres, who is hospitalized at the Sheba (Tel Hashomer) hospital in Ramat Gan since suffering a stroke nearly two weeks ago. Doctors now believe that his neurological situation is irreversible.
Channel 10 reports that Peres' family members have since been summoned to the hospital by doctors in order to part from him.
Peres's condition deteriorated despite daily improvements since he suffered the stroke.
Minister Arye Deri and Rabbi of the Western Wall Rabbi Shmuel Rabinovitch visited Peres' hospital room and prayed for his recovery.
Deri and Rabbi Rabinovich praying (Photo: Shas spokesman)
Last week President Ruby Rivlin visited Peres. Rivlin went to the ward where Peres is confined and heard a detailed assessment of his condition from his doctors, hugged his children and talked for a long period with members of Peres' bureau.
In a press release, Rivlin said that "Peres is so present and perceptible for the public and especially for me as the president who inherited his position. We all hope to see the ninth president recover, we pray that we will see Shimon Peres the fighter and hero emerge victorious."