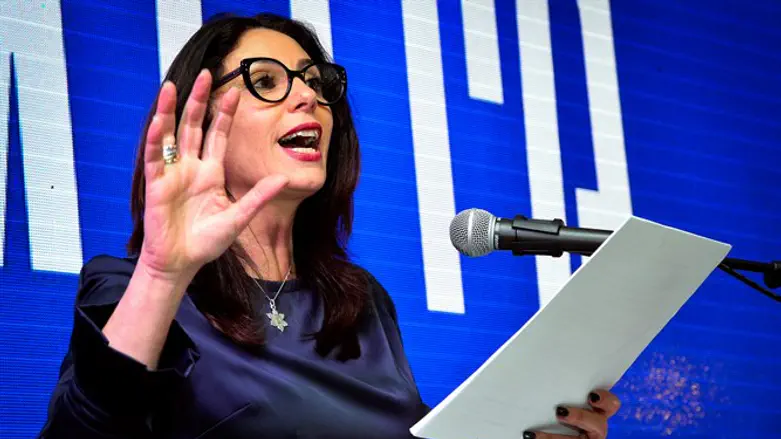 Miri Regev
Flash 90
The director of the Ashdod Performing Arts Center, Moti Malka, on Friday filed a complaint with the police against actor Roi Assaf, who on Thursday night stormed the stage during Culture Minister Miri Regev's speech at the Ophir Awards.
Assaf's actions were in protest of Regev having earlier left the auditorium when a poet by anti-Israel Arab ultranationalist poet Mahmoud Darwish was recited during the awards ceremony.
"I filed a complaint for violation of public order in a way that appears violent. It looks to be against the law," said Malka.
On Thursday night, Regev walked out during the recitation of the poem by Darwish, who was a member of the Palestine Liberation Organization's (PLO) executive committee and authored a draft of what was intended to serve as the organization's declaration of independence.
He was an ardent opponent of Jewish self-determination and is seen as a figurehead for many anti-Zionists.
Regev later gave remarks at the ceremony in which she explained that she walked out of the ceremony because she has no tolerance for those who openly expressed their wish that Israel be eliminated.
It was during Regev's remarks that Assaf stormed the stage, while others booed Regev and walked out of the hall. Regev said in response that although there are those who are not willing to listen to her, she will complete her speech and would not let anyone shut her mouth.
On Friday, she held a press conference in which she said that the Ophir Awards ceremony had been a humiliating incident in which two red lines were crossed – the use of Mahmoud Darwish's poems and the use of violence and verbal bullying.
Regev said that she and her staff had not been informed in advance of the intention to recite one of Darwish's poems at the ceremony, and that she was surprised to hear about it behind the scenes. She added that it was clear once she found out about the recitation of the poem that she would not remain in the auditorium.
(Arutz Sheva's North American desk is keeping you updated until the start of Shabbat in New York. The time posted automatically on all Arutz Sheva articles, however, is Israeli time.)