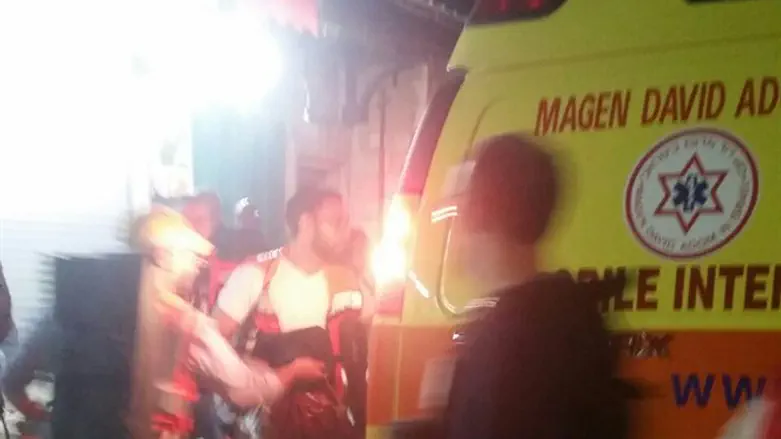 Stabbing attack in Old City of Jerusalem
Magen David Adom spokesperson
American citizens should avoid certain parts of Jerusalem because of an increase in stabbing attacks in and around the Old City, the U.S. diplomatic missions in Israel said in a security warning.
The message issued late Monday by the U.S. Consulate in Jerusalem and the U.S. Embassy in Tel Aviv said the "recent uptick in stabbing attacks in and around the Old City of Jerusalem has led the U.S. Consulate General to recommend that all U.S. government employees and their family members avoid the Damascus, Herod's, and Lions gates and the surrounding vicinity."
The restriction may be lifted at the end of October, which is when the Jewish holiday season ends, "based on the security environment at that time," the message said.
It called on U.S. citizens to avoid areas where there are a large number of police present, "as this is often an indicator of an ongoing investigation, demonstration, or that an attack or an attempted attack may have just occurred." The warning called on U.S. citizens to "exercise a heightened sense of situational awareness at all times and to monitor local news sources."
A series of attacks since last week, including several in and around Jerusalem, has left at least seven Palestinian terrorists dead and several Israeli soldiers and civilians injured, some seriously.
The condition of a policewoman, 38, who was stabbed repeatedly in an attack on Monday while she was patrolling with a fellow officer near Herod's Gate in the Old City, remained "very serious but stable" a day after the attack, according to The Times of Israel.
A male police officer, 45, was stabbed in the upper body and moderately wounded, and was being treated at Hadassah Hospital, Ein Kerem. He shot the attacker, who is in critical condition in a Jerusalem hospital.