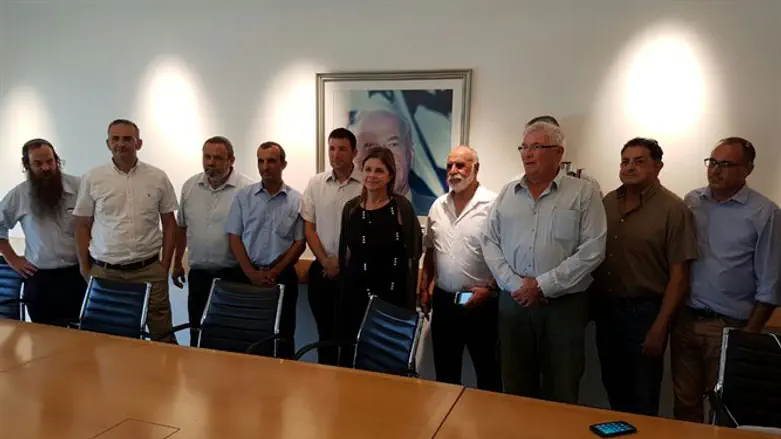 Heads of YESHA Council with Dalia Rabin
Hezki Ezra
Head of the YESHA Council for settlements in Judea and Samaria and head the settlements arrived at an historic and controversial visit to the Yitzchak Rabin Center, during which harsh words were exchanged between sides.
Almost 21 years after Rabin's murder, heads of the councils and settlements in Judea and Samaria visited the Yitzchak Rabin Center in Tel Aviv.
Participants toured the Israeli museum which induced dialogue about the messages portrayed in the museum.
During the visit, former MK Moshe Peled stated that, "This is the most political center in Israel. You are shaming Rabin."
Head the Beit El Council of Shai Alon said, "The first introductory movie leaves you shocked," stating that it brings you back to the days of the murder.
"You can say that we are not confused, we know what was good and what was bad. The settlement movement has reached half a million and this is good and right, and the Oslo accords are a black mark on the State of Israel that we don't know how to get out of."
At the end of the visit, the heads of settlements met with Dalia Rabin, Former Prime Minister Rabin's daughter, who heads the center.
Dalia Rabin praised the visit saying, "after 20 years I took it upon myself to connect with the religious nationalist community and the settlers." This Israeli Rabin center is a meeting place, and we have many things to discuss, because Israel is important to all of us and if we don't speak and listen, we will lose this incredible Zionist dream that we have all invested blood, sweat and tears into."
"It's natural that you will have comments and concerns, and that we won't agree on everything, but the most important things is to start a democratic dialogue and continue it. I would be pleased if you would bring members of the settler community to this place."
Yochai Demari, head of the Hebron Hills Regional Council, thanked the center for its hospitality and said, "I'm happy that I am here so I can speak because the minute we learn how to create dialogue we will also learn how to disagree. This year we will mark 50 years since the Six Day War and 450 thousand settlers need to thank your father for his work and on for the settler movement. I hope this is only the beginning of the dialogue because it must continue."
Several of the participants found the visit to be very controversial.
One of the participants told Rabin that she would not bring her child to the museum because its content contains errors and incites hatred against settlers.
Another participant said that "it's embarrassing that the tour finished with a portrayal of Rabin in Nazi garb. You are taking posters and adapting the story."
Dalia Rabin responded, "It's not easy for me to hear these comments but it's important to listen. The dialogue must continue."