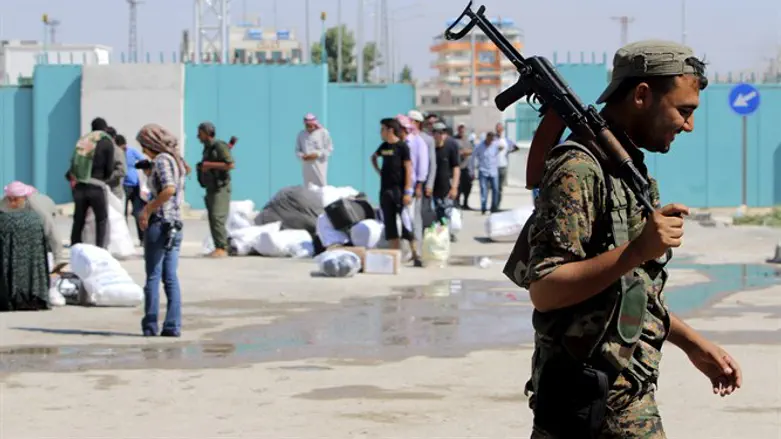 Kurdish YPG fighter walks along Syria-Turkey border
Reuters
Turkish air strikes in northern Syria in late August killed 24 civilians, Human Rights Watch (HRW) said on Thursday, accusing Ankara of failing to properly identify the target and pro-Kurdish forces of
grouping fighters together with civilians.
Activists had said at the time that the air strikes on August 24, in the early stages of Turkey's campaign in Syria, killed civilians. But Turkish state media said that 25 "terrorists" were killed.
HRW said that 24 civilians, including six children, were killed. Between 10 and 15 fighters deployed among the civilians were also killed, it added.
Turkey has always insisted it is doing the utmost to avoid civilian casualties in Syria and at the time issued a statement saying claims that civilians were targeted or hit in the August 28 air strikes "do not reflect reality".
"Available information suggests that both sides could have done more to minimise civilian loss of life, as required by the laws of war," HRW said in a statement.
It said that according to residents, Turkish aircraft struck Syrian Democratic Forces (SDF) "who had just disembarked from military vehicles among residential buildings in which about four dozen civilians had sought shelter from nearby fighting."
Artillery shelling then resulted in additional casualties. The attack took place near the village of Suraysat, about 12 kilometres (7 miles) south of Jarabalus, which had been taken by pro-Ankara fighters from jihadists on August 24.
The SDF is a US-backed grouping of Syrian rebel forces still dominated by the Kurdish People's Protection Units (YPG) militia, which Turkey regards as a terror group.
The deaths "could have been avoided if the SDF fighters hadn't positioned themselves among buildings filled with civilians and Turkish forces had made a better effort to determine whether civilians were there," said Ole Solvang, HRW deputy emergencies director.
The rights group said the SDF should not have positioned their forces in the residential compound "without having first relocated the civilians to another area."
Meanwhile, it is not clear that "the Turkish military took adequate steps to determine the extent to which civilians might be at risk in the attack," it added.
The attack came on the fifth day of Turkey's unprecedented air and ground campaign in Syria which is aimed at dislodging both Islamic State (ISIS) jihadists and YPG fighters from the area.