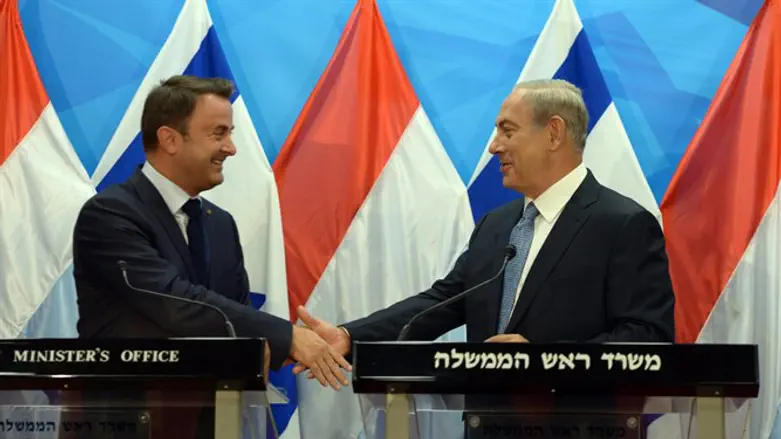 Netanyahu with Luxembourg PM Bettel
Photo: Haim Zach (GPO)
Prime Minister Benjamin Netanyahu, today (Monday) met with Luxembourg Prime Minister Xavier Bettel in his office; this is the first visit by a Prime Minister of Luxembourg to Israel. The atmosphere at the meeting was described as "warm and friendly."
Luxembourg Prime Minister Bettel invited Netanyahu to visit his country. Topics discussed at the meeting included bilateral economic relations and ways to deepen them, as well as various regional issues.
After the meeting, Netanyahu said that the turbulence in the Middle East shows that the world must stand together against "militant Islamic barbarism" in all its forms, in Israel and elsewhere, and presents an opportunity for new strategic understandings and alliances between countries such as Israel and Luxembourg:
"You come obviously at a time of great turmoil in the Middle East, the world looks with horror as hundreds of thousands are slaughtered in Syria and millions stream to Europe, fleeing for their lives. We spoke about that at some length but I think this is a time of great opportunity as well. And that gives me a great deal of hope. Israel's partnerships and alliances around the world and in the region are growing broader and deeper. We stand together with many countries to defend civilization against the forces of militant Islamic barbarism and we stand together in the face of resurgent anti-Semitism."
Prime Minister Netanyahu then thanked Bettel for "the forthright position that you took in Luxembourg regarding the events there during the Second World War," saying that the Luxembourg leader's " apology to the Jewish community was deeply appreciated."
Netanyahu expressed hope that the technological and economic cooperation between the countries will deepen. "Israel and Luxembourg are two small countries but we've shown that two small countries can be, we shouldn't be judged by our size, we can do a lot of great things and we are doing them. And I think our small countries possess great strength and together we'll be stronger," he declared.
The topic of negotiations with the Palestinians came up in the meeting as well, as Bettel invited Netanyahu to come to Luxembourg "maybe with the Palestinians as well." Netanyahu reiterating his oft-repeated stance that he is ready for direct negotiations without preconditions "in Moscow, Luxembourg, or anywhere else."
Luxembourg Prime Minister Bettel, for his part, spoke about how happy he was to be the first "Luxembourgish Prime Minister" to visit Israel. As to the formal apology for some of his countrymen's collaboration with the Nazis, Bettel declared: "I'm very happy to hear also that the position of my Government, 70 years later, to apologize to the Jewish community by saying that we were not all heroes in my country, was deeply appreciated. For me, it was important to do that step because it's never too late to recognize errors but the biggest error is not to recognize errors."
Bettel then mentioned the strong and growing bilateral relations between "friends" Luxembourg and Israel, both "on the political level and on the business level", and stressed the similarities between the countries:
"We are both innovative economies, based on innovative economies. We are smart countries, as I like to call also Luxembourg. This is why besides the political purpose of the visit we had also meetings to strength the economic relations between both countries. Just give you an example: For example, trade between Luxembourg and Israel has nearly doubled from 2014 to 2015, and there is still much potential for more."
Bettel went on to talk about the political situation in the Middle-East and Europe, saying that it is "important that we respect each other, and are able to find solutions." This in addition to his earlier offer to host direct negotiations between Israel and the Palestinians.