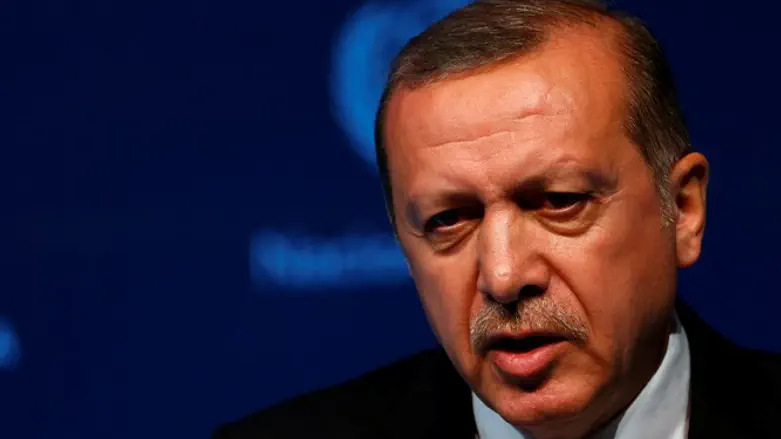 Turkish President Recep Tayyip Erdogan
Reuters
Turkish President Recep Tayyip Erdogan said on Monday he proposed, to both the United States and Russia, the setting up of a no-fly zone in northern Syria, after Ankara-backed fighters pushed the Islamic State (ISIS) group from the border area.
"We are working for this region to be declared no-fly zone," Erdogan said at the G20 meeting in China, referring to the land extending from Jarabulus to Azaz in northern Syria seized from ISIS jihadists.
"This is my proposal to Mr Putin and Mr Obama. This can be done with coalition forces," he added in televised comments.
Turkey launched an ambitious operation inside Syria on August 24, sending tanks and special forces in to back opposition fighters.
On Sunday, ISIS jihadists were expelled from their last positions along the Turkish-Syrian border depriving the group of a key transit point for recruits and supplies.
Ankara has often called for a safe-zone inside Syria, backed up with a no-fly zone, as it is currently hosting more than 2.5 million refugees who fled the over five-year civil war.
In China, Erdogan said he told all world leaders at the Antalya summit last year that "in Syria a safe zone could be set up... and we could solve the refugee crisis."
"Now in this summit, to all of our friends, we have brought up this issue and told them this," added the Turkish president.
Erdogan further said his country was cooperating with Russia for a ceasefire to be declared in the Aleppo region before the Eid al-Adha Muslim holiday, which is due around September 12.
"We are currently cooperating with Russia in the region of Aleppo. We are working for a ceasefire to be declared in the region... and the people of Aleppo saved from the bombs," said Erdogan.
Relations between Russia and Turkey deteriorated several months ago when Turkey downed a Russian warplane on the Syrian border.
Russian President Vladimir Putin branded the incident a "stab in the back committed by accomplices of terrorists", while Russian Foreign Minister Sergei Lavrov said the downing of the fighter jet by Turkey appeared to be a "planned provocation".
Subsequently, however, Erdogan apologized over the incident and expressed readiness to restore relations with Moscow.
AFP contributed to this report.