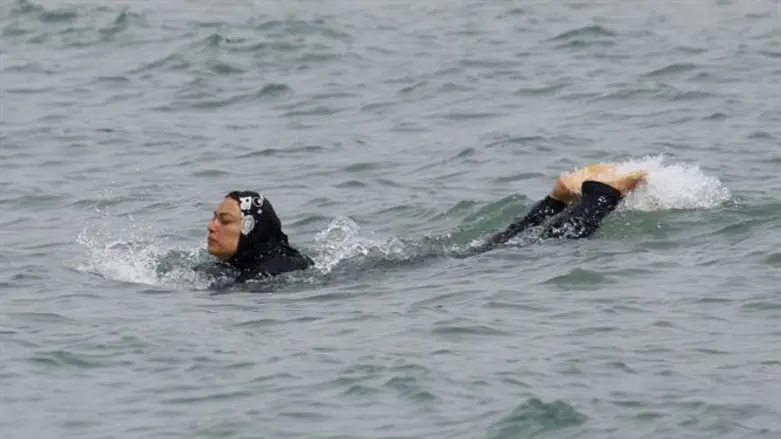 Burkini
Reuters
Ending a long and conspicuous silence on the burkini ban in France, the president of the umbrella group of French Jews appeared to support the ban, saying he favored limiting "political-religious" symbols.
In an interview published Monday on the Actualite Juive Jewish news website, Francis Kalifat of CRIF for the first time directly addressed the ban last month by 30 French municipalities on the full-body swimsuit favored by Muslim women seeking modesty.
Kalifat said lawmakers should "consider differentiating religious symbols from political-religious symbols." Radical and sectarian Islam and its fanatics, he said, "are looking for ways today to destabilize the French republic with the aim of vanquishing the societal model we inhabit today."
He also said: "This polemic will, of course, also affect the Jewish community."
Religious Orthodox women also adhere to clothing deemed modest, though few wear burkinis to the beach in France.
Kalifat has resisted calls to speak against the divisive ban, which a court on Aug. 26 ruled was illegal, in solidarity with French Muslims.
French Prime Minister Manuel Valls has defended the ban, saying the wearing of burkinis on French beaches was "part of a political project … to perpetuate female servitude." Critics of the ban have argued it infringes on the very liberties its supporters say it is designed to protect.
The burkini controversy reawakened the debate on the wearing of religious symbols in public in France, where a law banning face-covering clothing such as the burka was passed in 2010. Critics of such legislation say it opens the door to religious persecution, including of Jewish men who wear kippot and women who cover their hair.
In the interview, Kalifat reiterated his scathing criticism of Jean Luc Melenchon, a far-left politician who compared the ban to the persecution of Jews during the Holocaust. The comparison, which Kalifat called "indecent," prompted him to make his first indirect reference about the burkini bans two weeks after they were put in place.
Whereas Kalifat expressed an opinion that can be interpreted as supportive of the ban, a prominent Paris rabbi who early on told JTA that he supported the ban outright has walked back the statements, claiming they were taken out of context.
Asked by JTA on Aug. 23 whether he personally supported the burkini bans, Rabbi Moshe Sebbag, who heads the Grand Synagogue of Paris, said: "Yes, because you see that going with it [a burkini] is not innocent, it's sending a message."
The mayors who banned it, he said, "understood this is not about women's liberty to dress modestly but a statement as to who will rule here tomorrow."
But in an interview published Thursday by the Forward, Sebbag said: "I think my words were taken out of context. I was trying to explain this situation from a political level and how politicians in France view our current situation."
He added: "I understand where the mayor is coming from, but it doesn't mean that I agree with him. Passing this kind of law is unacceptable. It just screams Islamophobia. But from our current climate and environment, it is understandable."