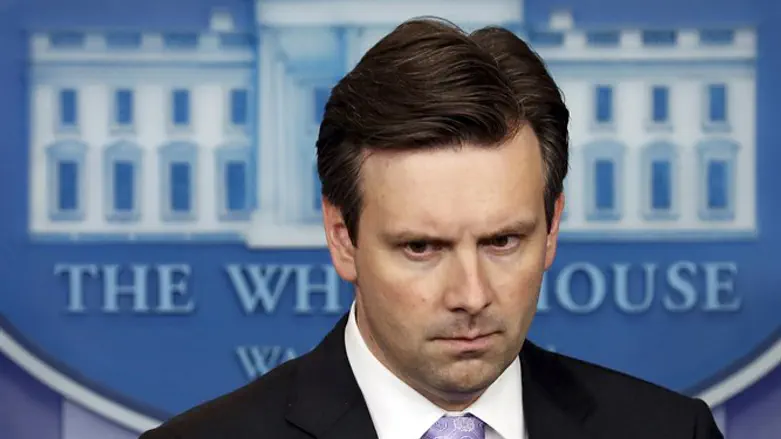 White House spokesman Josh Earnest
Reuters
The White House on Thursday dismissed a report alleging the U.S. and other world powers secretly allowed Iran to skirt restrictions on its uranium stockpile under last year's nuclear deal, The Hill reports.
Reuters on Thursday cited a soon-to-be-published report by the Institute for Science and International Security, which said the U.S. and fellow negotiating partners secretly agreed to permit the Islamic Republic to ignore some restrictions on its nuclear program, thereby paving the way for the removal of economic sanctions against the rogue state.
While White House spokesman Josh Earnest conceded he has not "read the precise report", he refuted the notion that Tehran is not in compliance with the international agreement.
"The argument that somehow this agreement was implemented before Iran came into compliance is just not true," he was quoted by The Hill as having told reporters on board Air Force One.
Earnest did not offer a line-by-line rebuttal of the report's claims. But, he said, Iran "has been in compliance with the agreement" since January 16, when the deal was implemented.
"Right now as we speak, Iran is in compliance with the agreement," he said, according to The Hill. "That's not my opinion, that's not rhetoric, that's not conjecture. That is a fact that is verified by international experts."
Earenst rejected the notion that the U.S. and other world powers relaxed the conditions in a rush to get the deal in place by January.
"There was never a deadline in terms of the calendar," he said. "The deadline was driven by Iran's compliance with the agreement."
He also dismissed the furor surrounding the report as another attempt by Republicans and other administration critics to undermine the pact.
"The report that we've seen and the rhetoric that it has prompted is entirely consistent with the failure of critics of the deal to tear it down," he charged, according to The Hill.
Earlier on Thursday, Republican presidential nominee Donald Trump's campaign criticized both the Iran nuclear deal as well as Democratic nominee Hillary Clinton's support for it.
Retired Lieutenant General Michael Flynn, a Trump foreign policy adviser, said the report showed President Barack Obama "gave away the store" when the agreement was sealed last year.
"The deeply flawed nuclear deal Hillary Clinton secretly spearheaded with Iran looks worse and worse by the day," Flynn's statement said, referring to Clinton's role during Obama's first term as secretary of state.