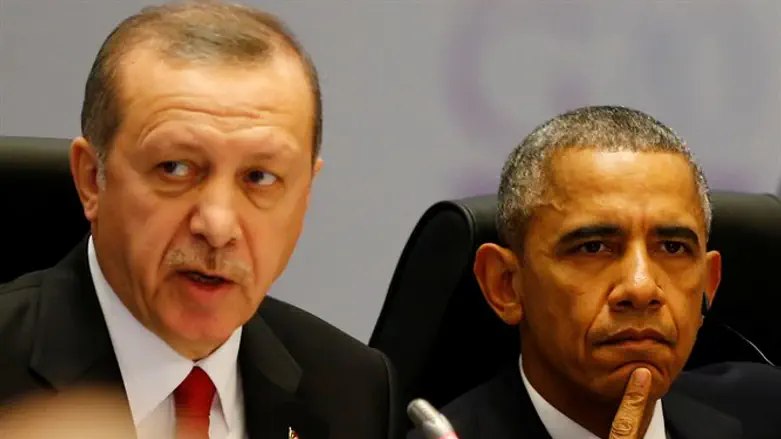 Erdogan and Obama
Reuters
U.S. President Barack Obama will meet his Turkish counterpart Recep Tayyip Erdogan on Sunday in China on the sidelines of the Group of 20 summit, with Syria high on the agenda, top aide Ben Rhodes announced Monday, according to AFP.
"They will be discussing the counter-ISIL campaign and the fact that we need to stay united," Ben Rhodes, the deputy U.S. national security advisor, told reporters, using another acronym for the Islamic State (ISIS) jihadist group.
Turkey has launched military operations inside Syria against both ISIS jihadists and the U.S.-backed Syrian Kurdish People's Protection Units (YPG) in recent days, creating a dilemma for Washington.
YPG are a key U.S. ally in the fight against ISIS. Washington regards them as the most effective fighting force on the ground in Syria and has provided weapons and special forces military advisers.
The United States' alliance with YPG has irked Turkish President Recep Tayyip Erdogan, as his country regards the YPG as a terror group and accuses it of carrying out attacks inside Turkey and being the Syrian branch of the Kurdistan Workers' Party (PKK).
Clashes between the Turkish forces and the YPG over the weekend drew a sharp rebuke from the Pentagon, which called them "unacceptable."
Previously, Washington had to scramble fighters to protect U.S. advisers working with Kurdish forces after Syrian regime jets bombed the area around the northeastern city of Hasakeh.
A U.S. defense official said on Monday the U.S.-backed Kurdish forces had pulled back to east of the Euphrates river over the past day or so, as demanded by Ankara.
Obama's meeting with Erdogan would be their first since a failed coup attempt in Turkey on July 15.
Tensions between the two allies have risen sharply since then, with Turkey demanding that the United States extradite Fethullah Gulen, an exiled former imam who Ankara claims was behind the coup attempt.