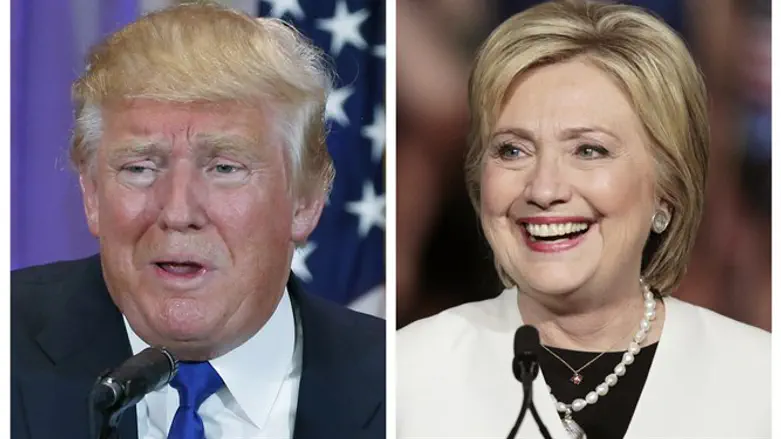 Donald Trump and Hilary Clinton
Photo: Reuters
Seventy-four days before this year's presidential election, polls forecast a tight election. Or do they suggest Clinton is on track for a landslide win?
In fact, recent polling tends to reinforce both narratives simultaneously, a fact that not surprisingly has led to much confusion and consternation among voters tracking the election horserace.
But how is this possible, and why?
On the one hand, Donald Trump, after trailing Clinton by as much as almost 8 points in the RealClearPolitics rolling average of polls, has gained some ground on the former Secretary of State. He now trails her by exactly 5 points – 4 if third party candidates are factored in.
Despite the positive trend on the national level for the GOP contender, however, Trump gained little ground hitherto in key battle ground states like Florida and Virginia – states that will make or break his presidential aspirations.
Even as Trump was trending upward this week in national polling, a Roanoke College survey published on Tuesday showed the real estate mogul trailing Mrs. Clinton by a whopping 16 points, 48% to 32%, in the once reliably Republican state of Virginia. Obama carried the state in both 2008 and 2012, but by far narrower margins.
Some polls, including a recent CNN/ORC poll also show Trump trailing Clinton in neighboring North Carolina. While Clinton's lead in the poll is well within the margin of error, even a narrow victory by Trump there would likely signal a defeat in the national election. Romney carried the state by four points in 2012, yet went on to lose the election by 3.9%.
That's led some prediction sites, like FiveThirtyEight, to downplay Trump's gains in general election polling.
But an Ipsos poll released Wednesday may go a long way in explaining the apparent contradiction between different polls.
In the survey, Trump performed poorly in formerly Republican strongholds like Colorado, where he trails Clinton by three points, and Virginia, where he trails by seven. Trump also trailed by eight in Florida, the all-important swing state, with 29 electoral votes. Traditionally, such poor polling in the three battleground states would suggest a very weak position for Trump in the national election.
At the same time, however, Trump performed surprisingly well in other states. Trump leads by four points in Maine – a blue New England state that hasn't gone Republican since 1988.
In New Mexico, which Romney lost by 10% in 2012, Trump was down by just 3 points. In Nevada, Trump was down by just two, 38 to 40. And in the battleground state of Iowa, Trump and Clinton were tied, 41-41. Even in Oregon, a deep-blue state dominated by Democrats at all levels, Trump trails by just four points. Romney lost the state by 12% in 2012.
Trump was also tied or in a statistical dead heat in a number of rustbelt states which have consistently voted Democrat in every presidential election since the 1980s.
In Michigan, Clinton led by just 1 point, 44 to 43. In Pennsylvania and Wisconsin the two candidates were also in a statistical dead heat, with Clinton leading 46 to 45 and 38 to 37 respectively.
Because the data was collected by the same pollster and with the same methodology, a direct comparison can be made between polls across the country, as well as the Ipsos national polling.
Given the somewhat surprising results, it appears that two conflicting trends are in fact taking place. Trump has, indeed, gained ground after reaching a low-point following the Democratic National Convention. The Republican has surged in states like Maine, Iowa, Nevada, and according to some polls, Wisconsin, Michigan, and Pennsylvania.
Yet at the same time he lags in Virginia, Colorado, and Ohio.
To some extent, this came be chalked up to demographics, and Trump's reshuffling of the Republican Party. With a strong appeal to blue collar whites, Trump has found fertile soil in relatively racially homogeneous states like Maine and Iowa, both of which also have large proportions of white working class voters. In Virginia and Colorado, on the other hand, the GOP traditionally relied on strong performance among college-educated whites, whose support for Trump is far lower than previous Republican candidates.
Another possible explanation, put forth by Michael Barone, author of The Almanac of American Politics, is that Clinton's relatively strong position in traditional swing states like Ohio, Virginia, and Florida, is due to her monopoly on election ads. While the Clinton campaign has launched a barrage of ad buys, Trump has run only a single ad in the entire election.