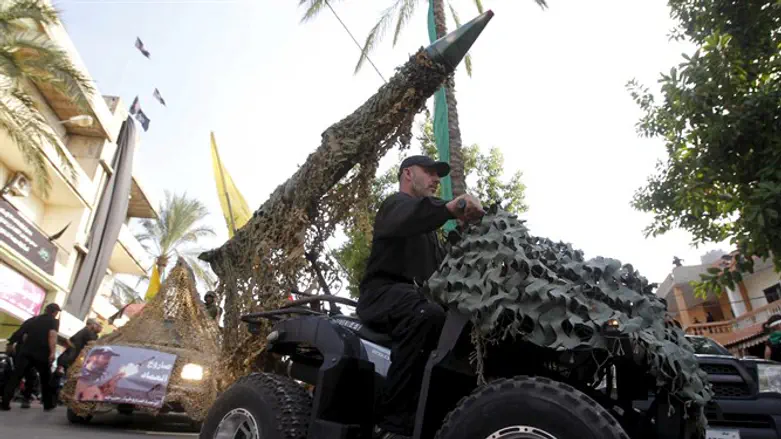 Hezbollah terrorist with missile
Reuters
Hezbollah officials are continuing to threaten Israel, the latest threat coming by Lebanese cleric Hashem Safieddine, head of the terrorist's group executive council.
In a television interview with the Al-Mayadeen television network, dated August 8 and translated by the Middle East Media Research Institute (MEMRI), Safieddine said that "Israel is closer than ever before to its demise" and warned that "the time for operations will come."
When the interviewer asked whether Hezbollah was capable of entering the Galilee or "even further than the Galilee" with ground forces, Safieddine responded, "We have that capability. Of course."
"We are only becoming more convinced in our belief that Israel is closer than ever before to its demise," Safieddine said in the comments transcribed by MEMRI.
"Israel, that power which was created in our region, that terrorist military barracks that perpetrated all those massacres... Israel is now closer than ever before to its demise," he continued.
"The time for operations will come. Right now, we need to talk about capabilities. The capability exists, but should we be using it or not? One generally does not talk about battles before they are held, or about operations before they take place. We will talk about the operations when the battle takes place. We are talking about capabilities. Does Hezbollah have this capability? Yes, it does," claimed Safieddine.
"When we talk about Israel's demise, we are not talking about something falling from the skies, but rather, about an [attack] that will be launched from down here," he threatened. "We are talking about our capabilities, our manpower, our weapons, our expertise, and the support we receive from the peoples."
Safieddine's comments are nothing new, as Hezbollah continues to boast of its abilities to attack Israel, 10 years after the Second Lebanon War.
Hezbollah leader Hassan Nasrallah is the main official making those threats, even though he has mostly been hiding in his bunker since the 2006 war and has rarely been seen in public. He does, however, give the occasional speech or television interview in which he usually verbally attacks and threatens Israel.
Most recently, Nasrallah claimed that Israel is deterred by Lebanon and also said that the Second Lebanon War caused the IDF to be undermined.
"The Israeli military establishment has been undermined, and there is a lack of trust between the different ranks – something which continues to this day" as a result of the war, Nasrallah said.
"(The war) also undermined the trust which the Israeli public has in the military, and undermined the Israeli public's belief that the IDF can win wars," he claimed.
Several months earlier Nasrallah threatened to target civilian sites across Israel and to invade the northern Galilee region.
He previously suggested that the organization would strike Israel's chemical plants in Haifa, referring to the ammonia storage tanks there as "Hezbollah's nuclear bomb".
Earlier this week, it was cleared for publication that the IDF, the Israel Security Agency (Shin Bet), and the Israel Police exposed several Hezbollah terror cells and arrested their members.
The terrorists, residents of Judea and Samaria, had been recruited through Facebook by Hezbollah operatives in Lebanon and Gaza.