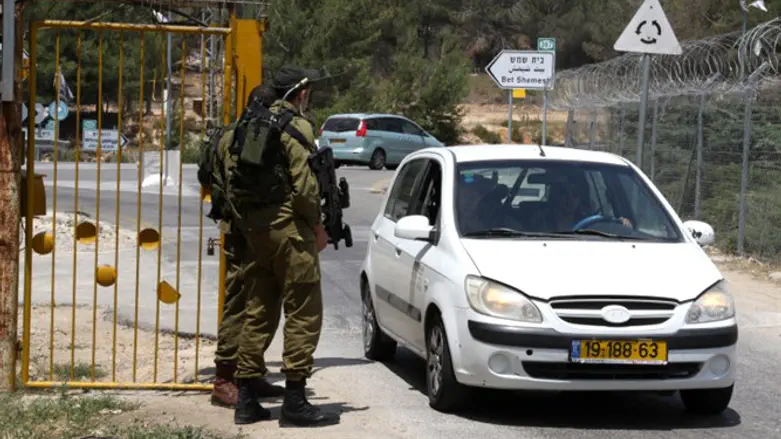 Israeli soldiers stand guard at the entrance to Kibbutz Kfar Etzion
Flash 90
Israel is to beef up security at public spaces in the wake of a deadly June attack in Tel Aviv and last month's seafront killings in Nice, an official said Wednesday.
Shopping malls, railway and bus stations, and public buildings are already closely guarded in Israel, and the new measures will apply to open spaces currently lacking a security cordon, a spokesman for internal security minister Gilad Erdan told AFP.
Recommendations by a committee of experts include deployment of armed guards and patrols, searches at entry points and installation of surveillance cameras.
The aim "is to create multiple obstacles to prevent a terrorist carrying out an attack similar to the one in Nice," the spokesman said.
"The difference between an attack where there are no victims and an attack in which there are many depends on the reaction time of civilians and armed guards, so we must ensure that in busy open spaces there is someone who can respond as quickly as possible," he said.
Likely sites for the upgrade include the busy Tel Aviv harbor promenade, Jerusalem's Mahane Yehuda produce market and a complex of hotels on the Dead Sea shore where a pilot program will be launched.
In June two Arab terrorists shot dead four people in Tel Aviv's Sarona leisure district, prompting Israeli officials to review existing security regulations.
The July 14 French Riviera attack, where the driver of a truck crashed into a festive crowd killing 85 people, was also taken into consideration, the spokesman said.