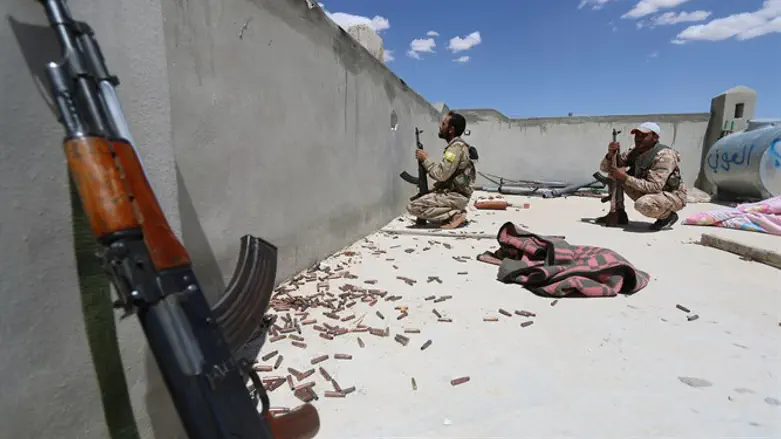 Syrian Democratic Forces battle ISIS near Manbij
Reuters
Islamic State (ISIS) group jihadists have released hundreds of civilians they used as human shields while fleeing a crumbling stronghold in northern Syria, but the fate of others remained unknown Saturday.
On another front, scores of civilians were killed on Saturday in air raids by the Syrian regime and its Russian ally, and in shelling attacks by the rebels in the battleground province of Aleppo, a monitoring group said.
At least 51 civilians including four children were killed in Aleppo city and the surrounding countryside, while another 22 civilians were killed in the neighboring province of Idlib, the Syrian Observatory for Human Rights said.
The last remaining ISIS fighters abandoned the city of Manbij near the Turkish border on Friday after a rout the Pentagon said showed the extremists were "on the ropes".
The retreat from the city which ISIS captured in 2014 was the jihadists' worst defeat yet at the hands of the Syrian Democratic Forces (SDF), an Arab-Kurdish alliance backed by U.S. air power.
Fleeing fighters took around 2,000 civilians, including women and children, Friday to ward off air strikes as they headed towards the ISIS-held frontier town of Jarabulus, according to the SDF.
At least some captives were later released or escaped, the alliance said Saturday, but the whereabouts of the rest was unknown.
"There are no more ISIS fighters" left in Manbij, an SDF member said.
Kurdish television showed footage of jubilant civilians in Manbij, including smiling mothers who had shed their veils and women embracing Kurdish fighters.
The SDF began an assault in May on Manbij, on a key jihadist supply route between the Turkish border and ISIS's de facto Syrian capital Raqa.
The jihadists, who have suffered a string of losses in Syria and Iraq, have often staged mass abductions when they come under pressure to relinquish territory they hold.
ISIS has also booby-trapped cars and carried out suicide bombings to slow advances by its opponents.
Jaish al-Islam, another major Syrian rebel group, has also in the past reportedly used dozens of captives in metal cages as "human shields" on the outskirts of Damascus.
Syria's conflict erupted in March 2011 and has since killed more than 290,000 people and drawn in world powers on all sides of the war.
AFP contributed to this report.