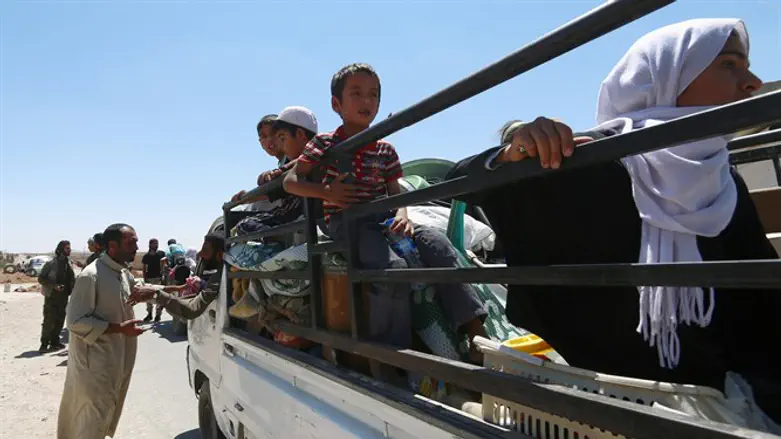 Civilians flee Syria's Manbij
Reuters
Islamic State (ISIS) group fighters seized around 2,000 civilians to use as "human shields" Friday as they fled their stronghold of Manbij in northern Syria, U.S.-backed forces and a monitor said.
The abductions came as Russian and Syrian jets pounded rebel positions in second city Aleppo, AFP reported.
The Arab-Kurdish alliance known as the Syrian Democratic Forces (SDF) expelled most of the ISIS fighters from Manbij last week, but dozens continued to put up a tough resistance.
On Friday they withdrew from a district in northern Manbij heading for the ISIS-held town of Jarabalus along the border with Turkey, taking the captives with them.
"While withdrawing from a district of Manbij, Daesh (ISIS) jihadists abducted around 2,000 civilians from Al-Sirb neighborhood," said Sherfan Darwish, spokesman for the Manbij Military Council, a key component of the SDF.
"They used these civilians as human shields as they withdrew to Jarabulus, thus preventing us from targeting them," he said, adding that women and children were among those taken.
The Britain-based Syrian Observatory for Human Rights, which relies on sources on the ground to
cover the conflict, also reported that ISIS had abducted around 2,000 civilians as they fled Manbij.
It said ISIS confiscated residents' cars, forced civilians into them and then headed for Jarabulus.
The jihadists, who have suffered a string of losses in Syria and Iraq, have often staged mass kidnappings in the two countries when they come under pressure to relinquish territory they hold.
In January, ISIS abducted more than 400 civilians, including women and children, as it overran parts of Deir Ezzor province in eastern Syria. It later released around 270 of them.
ISIS has also used civilians as human shields, booby-trapped cars and carried out suicide bombings to slow advances by their opponents and avoid coming under attack.
Jaish al-Islam, another major Syrian rebel group, has also in the past reportedly used dozens of captives in metal cages as "human shields" on the outskirts of Damascus.
Manbij was a key transit point along ISIS's supply route from the Turkish border to Raqa, the de facto capital of its self-styled Islamic "caliphate".
The Britain-based Observatory says the battle for Manbij claimed the lives of at least 437 civilians -- including 105 children -- and killed 299 SDF fighters and 1,019 jihadists.
Syria's conflict erupted in March 2011 and has since killed more than 290,000 people and drawn in world powers on all sides of the war.
AFP contributed to this report.
(Arutz Sheva's North American desk is keeping you updated until the start of Shabbat in New York. The time posted automatically on all Arutz Sheva articles, however, is Israeli time.)