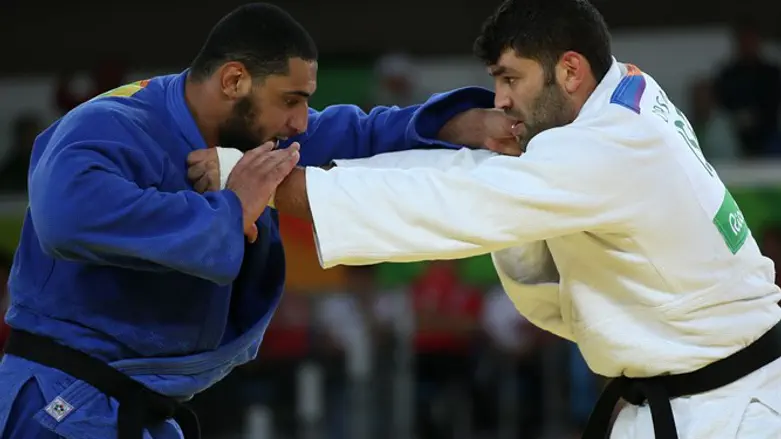 Islam el-Shahabi and Or Sasson at the 2016 Rio Olympics
Reuters
Egyptian judoka Islam el-Shahabi's refusal to shake the hand of his Israeli rival Or Sasson was his own decision, Egypt's Olympic Committee said Friday.
Earlier on Friday, el-Shahabi snubbed Sasson and refused to shake his hand after Sasson beat him by an ippon.
The crowd responded by booing.
In a statement, the Egyptian Olympic Committee said, according to The Associated Press, "El-Shahabi was alerted before the match to abide by all the rules and to have sporting spirit during his match with the Israeli player."
"What the player did after the match, and not shaking hands with his rival, is a personal action," it added.
El-Shahabi refused to comment after the incident, as did Sasson, who moved to the semifinals later Friday to face top-ranked Teddy Riner of France, according to The Associated Press.
Ofir Gendelman, Arabic language spokesman for Prime Minister Binyamin Netanyahu, called the incident "shocking." In a Twitter post, he said it "goes against the spirit of Rio 2016," writing in Arabic said that "sports are not the field for politics and extremism."
The International Judo Federation called it a sign a progress that the fight even took place between the two athletes.
"This is already a big improvement that Arabic countries accept to (fight) Israel," spokesman Nicolas Messner said in an email to AP. The competitors were under no obligation to shake hands, but a bow is mandatory, he added.
Messner said that even though El-Shahabi ultimately bowed, "his attitude will be reviewed after the games to see if any further action should be taken."
(Arutz Sheva's North American desk is keeping you updated until the start of Shabbat in New York. The time posted automatically on all Arutz Sheva articles, however, is Israeli time.)