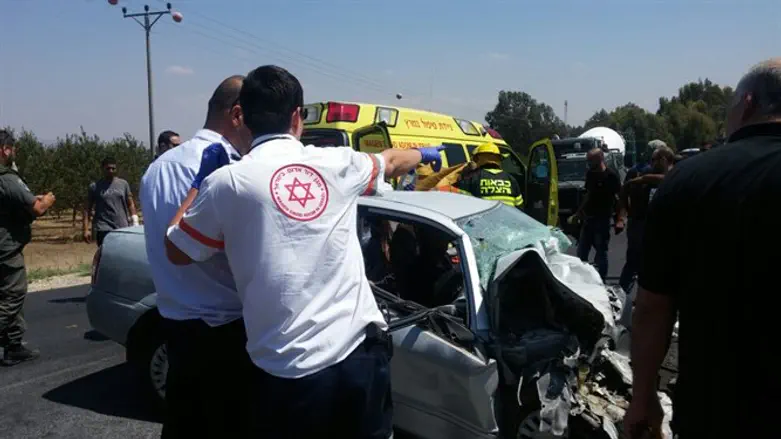 התאונה הקשה בעמק יזרעאל
צילום: דוברות מד"א
Two women in their 50s were killed on Thursday afternoon in a traffic accident on Highway 66, near Megido Junction, in the direction of Kibbutz Givat Oz.
MDA emergency personnel who arrived at the scene were forces to pronounce the death of both mortally wounded women.
MDA personnel transferred two more women - one in her 50s, another in her 70s - to Haemek Hospital in Afula in critical condition.
A man in his 50s who was critically injured was transferred to Rambam Hospital.
MDA paramedic Wisam Zoabi retells what he saw when he arrived: "In the middle of the highway was a car, inside of which were a man and a woman...over on the side of the highway was another car, also crushed, with a woman in her 50s lying next to it, and inside, two more women."
According to him, "The woman lying outside the car was unconscious, without respiration or pulse, with severe multi-system wounds. Another woman in the second car, sitting in the seat next to the driver, was also unconscious, without a pulse or breath. We tried to save their lives, the wounds were critical, and within a short amount of time we had to declare their deaths."
Highway 66 in the area has been closed for traffic. Police recommend drivers take an alternate route.