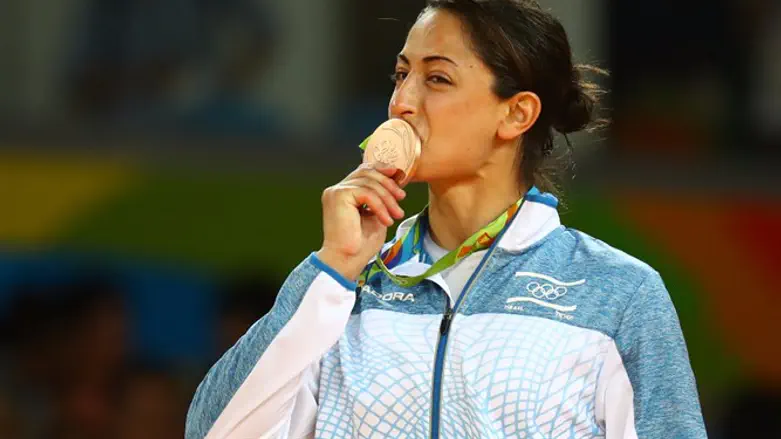 Yarden Gerbi with her medal in Rio
Photo: Reuters
The Israeli delegation to the Rio Olympics, and Israelis everywhere, can breathe a sigh of relief. Israel will not go home empty handed.
Yarden Gerbi became the first Israeli athlete to win an Olympic medal since windsurfer Shachar Tzuberi in Beijing 2008, defeating Japan's Miku Tashiro for a bronze medal in the women's Judo under 63 kg category.
The Israeli delegation had been faring terribly in the Olympics until male Judoka Sagi Muki came within one win of a medal twice yesterday (Monday), before ultimately missing out.
Gerbi had to overcome heartbreak earlier in the day, as she was defeated in devastating fashion in extra time by Brazilian home-crowd favorite Mariana Silva in the quarterfinal stage.
The loss dropped her to the consolation bracket, where she quickly regathered her wits and resolve, in time to defeat Yang Junxia of China, setting her up for the bronze medal match.
With the eyes of an entire country upon her, Gerbi delivered, dominating her bout with Tashiro from start to finish to claim her well-earned bronze medal, and send the dozens of Israeli fans in attendance into delirium.
President Reuven Rivlin called Gerbi after her huge win. "The whole nation in Israel is feeling this triumph together with you," the President told Gerbi, "We all held our breath. You are simply a champion. You are our hero."
Prime Minister Binyamin Netanyahu chimed in on Twitter: "Yarden, you did it! We're all proud of you."