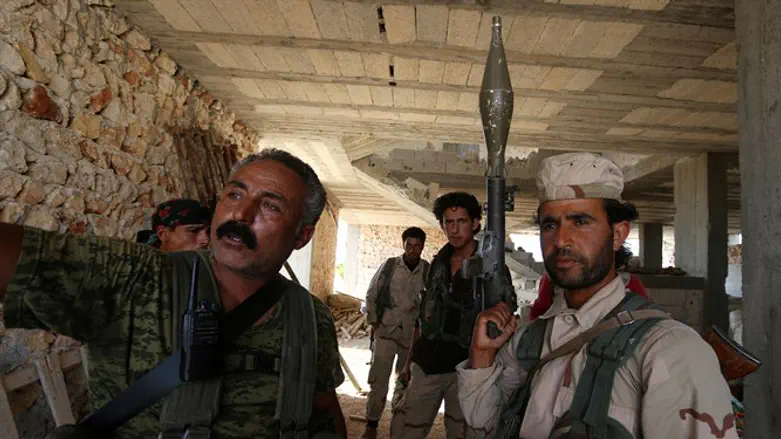 Syrian Democratic Forces fighters outside Manbij
Reuters
US-backed fighters savoring a momentous victory confidently roam the shattered streets of Manbij in Syria as they hunt down the last remaining Islamic State group jihadists holed up there.
The Arab-Kurdish alliance known as the Syrian Democratic Forces (SDF) expelled IS from the town over the weekend after more than two months of ferocious fighting. AFP correspondents were the first foreign media to enter the former jihadist bastion on Sunday, alongside SDF fighters eager to announce its "liberation".
"Daesh (ISIS) is finished. The town will be liberated in the coming hours," SDF fighter Ibrahim al-Hussein says, using the Arabic acronym for the group. He is flanked by ruined residential and commercial apartment blocks that saw some of the most intense street battles.
Apart from the green camouflage of SDF fighters, the streets of Manbij are colorless - grey dust, charcoal cement blocks and burnt metal strewn everywhere.
Rifles slung comfortably over their shoulders, the SDF fighters are clearly proud of their triumph in what was once a major transit point along ISIS's supply route from the Turkish border down to its bastion of Raqqa.
With air support from the US-led coalition, the SDF began its assault on Manbij on May 31, surging into the town itself three weeks later.
Holed up jihadists

But the offensive was slowed by a massive jihadist fightback using suicide attackers and car bombs, before a major push last week saw the SDF seize 90 percent of the town.
According to the United Nations, more than 78,000 people have been displaced since the attack began. Now, the SDF is preparing to clear the "security quarter", a central district where the last pocket of jihadists is thought to be.
The alliance estimates that some 130 jihadists are still in the area. "We are very close to the security quarter. Just 75 metres (yards) and we will storm it," fighter Abu Ammar tells AFP.
But he also warns that "Daesh is using every malicious tactic in the book, from booby-trapped cars to human shields".
Fayyad al-Ghanem heads the Raqa Falcons Brigade, an Arab contingent of the SDF. His hand on the walkie-talkie at his hip, Ghanem says that storming the center "has been delayed because we are trying to protect civilians and get them out... without causing them any harm".
"Daesh is now resorting to burning their homes and planting explosives to slow our offensive," he says.
In Manbij on Monday, Arab fighters in the SDF said they would allow the last remaining ISIS men to leave if the jihadists freed residents in the security quarter.
The alliance says it is helping fearful civilians still trapped there to get out.

'Don't be late'

"Thank God, we left the neighborhood safely thanks to the SDF," one young man in a white shirt says, holding his disabled brother's hand tightly. "What did this young boy do to deserve seeing all these clashes and being banned from leaving?" he asks.
Mohammad Benshi, in his 40s, waits just outside the security quarter with members of his family for a signal from nearby SDF fighters that it is safe to proceed.
"Daesh had banned us from leaving without their orders," but SDF fighters on the edges of the district helped them to escape, he says. Not everyone was so lucky, Benshi says: "One woman was killed by a sniper when she tried to leave her home."
According to the Syrian Observatory for Human Rights, at least 433 civilians were killed in the fight for Manbij. Another 973 IS jihadists and 281 SDF fighters also died.
"IS planted many mines in the town to hinder our advance - you have to follow us so you don't set any of them off," one SDF fighter tells AFP's correspondent.
The remaining jihadists were also burning tires to cover Manbij in black smoke and try to block the view of US-led coalition warplanes circling above.
Speaking into his walkie-talkie, one SDF fighter calls "for a car to extract four of our colleagues who've been wounded by Daesh snipers."
"Don't be late," he says. "We're waiting for you."