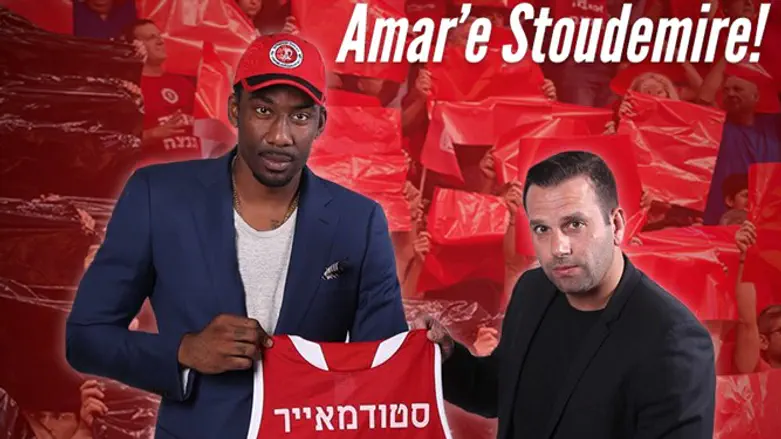 Stoudemire with team owner Uri Alon, displaying his new jersey
Hapoel Jerusalem (Facebook)
Amar'e Stoudemire, the NBA basketball star who just signed with Hapoel Jerusalem, said that he has always wanted to be in Israel, and play basketball there - and he is now realizing his dream.
In his first press conference since arriving in Israel at the end of last week, Stoudemire explained his transfer to Hapoel Yerushalayim:
"I don't play for fun - I play to win. I got several offers in the NBA, but none of them were relevant - so I came to Jerusalem."
Stoudemire said he's not terribly worried about the upcoming season.
"I've played on teams like the [New York] Knicks - and there is no where as pressured as this team. I'll be ready for the season."
He emphasized that the chance that he would play for the Israeli national team is low - mostly because he had previously played in the past on the American dream team.
At the press conference, he also touched on his Jewish roots: "My mother told us that we have roots in Judaism. That's one of the reasons I'm here - and I visited here a lot in the past few years."