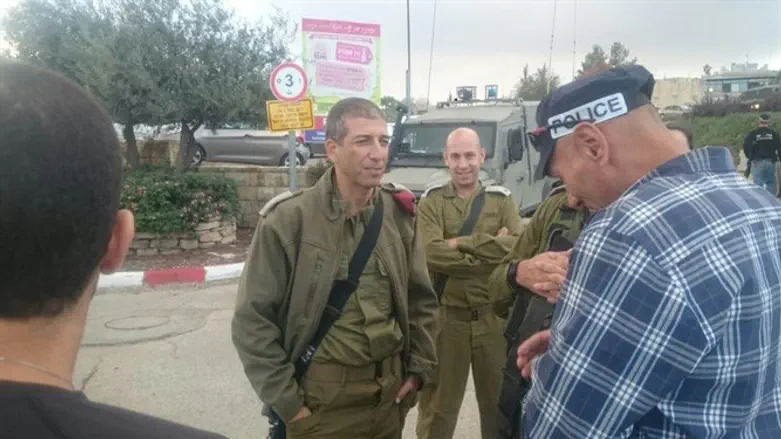 Scene of the attack in which Nirit was wounded
Photo: Eliran Aharon
Nirit Zamorah, mother of eight and resident of Beit Haggai in Har Hevron, was seriously wounded in a stabbing attack nine months ago in the entrance to a supermarket in Gush Etzyon.
Nirit survived miraculously, but now she's dealing with the physical difficulties her injury brought on.
"When I got to the hospital and they did a CT scan, they saw that the knife went through my spine, but missed my spinal cord, surrounding it. It was a miracle. The second miracle was that the knife broke," she told Arutz Sheva.
Though her life was saved, Nirit also spoke about her continued difficulties. "It's been nine months and I still have to go to rehab in Hadassah Mount Scopus. I have problems with mobility. Though I'm walking on my own two legs, this is deceptive.
"The real difficulty is functioning in running my home with the mobility issues. We live in a fairly isolated town. Thank God, we have eight kids, and my husband helps, but he also needs to go to work. I very much want to go back to my job in artistic therapy but it's not easy. The terror attack on me has had many consequences. Even going on public transportation is hard, but I thank God that my life was saved."
Nirit went on a retreat in Tiberias this week organized by the "OneFamily" organization for those hit by terror attacks during the recent wave over the past year or so. She said meeting other people who'd been victims of terror was a powerful experience. "The conversations bring up many things that are difficult to talk about generally. Everyone talks about the miracles they experienced and how much gratitude we have for God, the doctors, National Insurance, and of course OneFamily."
At the end of her interview with Arutz Sheva, Nirit wanted to deliver a message to the public:
"We do need to have a lot of sensitivity towards victims of attacks. The resources, physical and mental, are available, but you never go back to the way you were. It's entirely different from the pain of bereavement, It's a kind of pain that continues all the time, but we must always remember that we have tremendous gratitude to God and the doctors."
Chantal Belzberg Executive Vice-Chairman of OneFamily, the organization the provides a "family" for terror victims around the world, added to the message:
"Sometimes when we hear of people who've been wounded and whose life is no longer threatened, and even when they've been released from the hospital, our tendency is to think that 'everything's fine then,' but this is not so. These wonderful people carry an emotional wound with them for the rest of their lives."
"This wound continues bleeding long after the physical ones heal. That's why we at OneFamily are here, but it's important that the public in Israel understand the need to continue to support and assist terror victims."