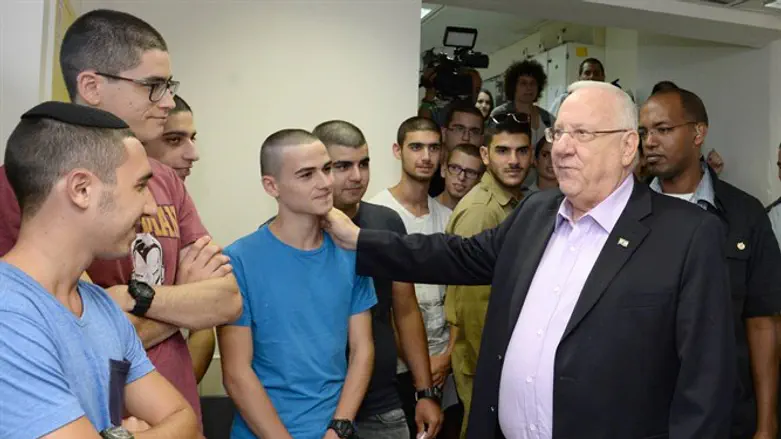 Rivlin with the recruits
Photo: Mark Neiman
President Reuven (Ruvi) Rivlin, visited the IDF's draft absorption center in the Tel Hashomer base near Tel Aviv this morning (Tuesday) to meet with the new August draftees into the IDF. Accompanying him were Brigadier-General Eran Shani, commander of "Meitav", the army name for the unit in charge of absorbing the draftees, Head of the Personnel Directorate General Hagai Topolansky, and Deputy Chief of Staff General Yair Golan.
Rivlin visited the draft locations for the Air Defense Battalion, the Home Front Command, and the "Lions of Jordan", Caracal, and Bardelas (Cheetah) combat battalions.
The President's visit opened with a series of presentations delivered by Meitav Commander Shani. Among the objects of the presentations were new data regarding higher rates of draftees among various sectors, chief among them the haredi sector.
The data show that 26.9% of men to not serve in the IDF, while 41.8% of women don't. In most cases, the reasons are religious.
Data from the Ethiopian community show a marked decrease in dropout rates from the army once drafted, and an encouraging 20% increase in those who become officers.
The draft of religious girls to the army is rising and so too are haredi draft rates. In the last decade there's been an especially marked rise among haredim and a new haredi paratrooper unit will be formed after the November draft of this year.
The President was also presented with a plan to double the draft rate among Bedouins by 2018, including a preparatory course after the draft, and a shorter term of service.
Speaking to the new draftees, President Rivlin said: "You're joining our country's army, in which there is no difference between soldiers. Girls, boys, haredim, secular Jews, Druze, Bedouin, Muslim, you're all the defense force for Israel and its citizens. Your parents used to protect you, now you protect them.
"I'm proud to be with you here today and also to see the female soldiers, and how female combat fighters are filling the IDF ranks. I wish you all an effective term of service, where you will all manifest your full potential. 59 years ago I was drafted myself, and later I sent my children and then my grandchildren to the army. I feel like you are my children, my grandchildren, my sons and daughters. Thank you for your desire to serve your country out of the feeling that this is everyone's duty."
After his conversation with the soldiers, the President visited the equipment line where his own draft present was waiting for him - his own personal dog-tag, embossed with his name, his personal army number, and the words: "President of the State".