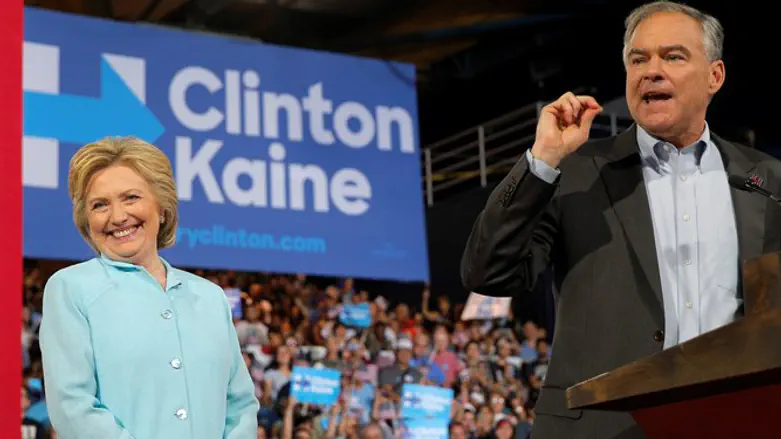 Hillary Clinton and Tim Kaine
Reuters
The Democratic National Convention on Wednesday afternoon formally nominated Virginia Sen. Tim Kaine as the party's vice presidential candidate by acclamation, ABC News reported.
When Kaine's name was mentioned by the convention chair for the first time, the Virginia delegation cheered, waving their arms and chanting "Kaine! Kaine!"
Some mixed boos could also be heard from the floor but not nearly enough to stop the nomination, according to ABC News.
Despite rumblings of pro-Bernie delegates trying to derail Kaine's nomination, no one else garnered the 300 signatures necessary to have their name placed into nomination. Convention chair Rep. Marcia Fudge confirmed that Kaine's name was the only name submitted for nomination.
Kaine has already drawn fire from the pro-Israel community due in part to his robust support for the Iran nuclear deal, his boycott of Israeli Prime Minister Binyamin Netanyahu's address to Congress in 2015, and his ties to a left-wing NGO.
Earlier this week it was revealed that in 2007, then-Governor Kaine appointed Esam Omeish, a Libyan-born physician and then-president of the Muslim American Society, to Virginia's Immigration Commission. This came despite Omeish's history of ties and expressions of support for radical Islam and Jihadist terrorism.
Omeish is a long-time member of the Board of Directors of the Dar Al Hijrah mosque, which two of the 19 terrorists responsible for the 9/11 terror attacks attended, as friends of the mosque's imam.
That imam was Anwar al-Awlaki, the radical Salafist cleric who later fled the United States and joined Al-Qaeda, after settling in Yemen.