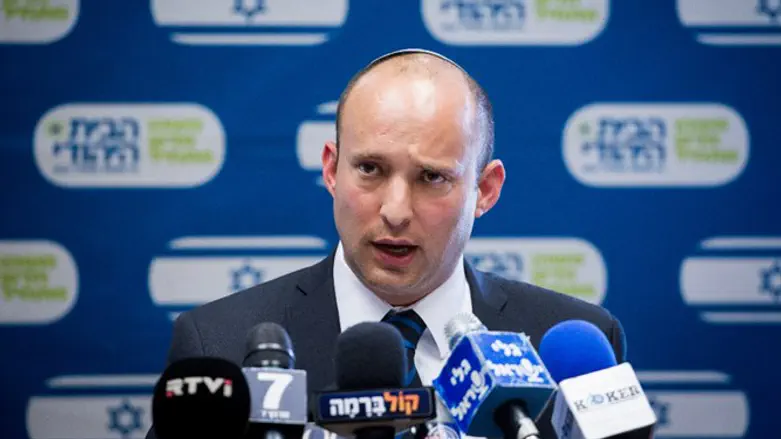 לא להתקפל. בנט
צילום: מרים אלסטר, פלאש 90
Education Minister Naftali Bennett (Jewish Home) rejected the Prime Minister's claim that the Cabinet discussed the terror tunnel problem eight times before Operation Protective Edge was put into action. According to Bennett, the Prime Minister left the Cabinet in the dark about the danger of Hamas' Gaza tunnels until after they had already started Operation Protective Edge.
"Every platoon commander in the IDF draws conclusions at the end of a training exercise, in order to prevent repeated mistakes, and to improve," Bennett explained. "And that which is right for an infantry platoon, is doubly right for the state-security leadership of the State of Israel.
"For the next campaign, we are obligated to learn from our past mistakes, and not to forget them. Lessons learned in real-time are a sign of strength and self-confidence. Anyone who isn't prepared to learn from the mistakes of the past, is likely to repeat them in the future."
Prime Minister Binyamin Netanyahu responded yesterday to the claims that Operation Protective Edge was planned without the Cabinet addressing the danger of the terror tunnels from Gaza to Israel. According to Netanyahu, "The claim...is the opposite of true."
According to the Prime Minister, in 2013 and 2014, "8 Cabinet meetings and visits to the Gaza Division which dealt with the danger of Hamas terror tunnels, and how to deal with them using technological means to map the tunnels...and destroy them."
He continued, "In the discussions, it was proposed that there are more than 20 terror tunnels in Gaza, and that is for the technology people and the security establishment to find a technological solution to map and neutralize the tunnels."
A recently published report alleged that the Prime Minister and the Defense Minister did not discuss the threat with members of the Cabinet until after the war began, except for one discussion in March 2014. This accusation matches that of Minister Naftali Bennett, who claims that even during the Operation, there was no real discussion in the Cabinet on the threat of the tunnels from the Gaza Strip.