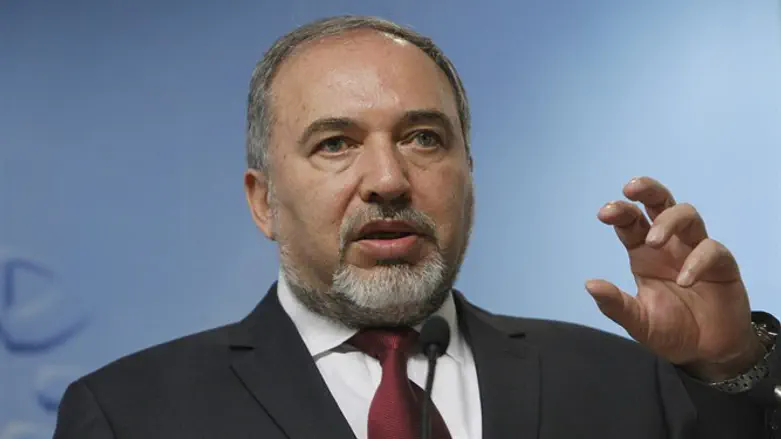 Avigdor Liberman
Flash 90
Defense Minister Avigdor Liberman met early Thursday afternoon with the director of IDF Radio, Yaron Dekel, to discuss a controversial program which focused on the work of Arab ultranationalist poet Mahmoud Darwish.
Darwish, an ardent opponent of Jewish self-determination, is seen as a figurehead for many anti-Zionists, and the show drew widespread anger and condemnation.
IDF Radio is Israel's most popular radio station.
During the meeting, Liberman reportedly minced no words in voicing his displeasure, but insisted he would not be intervening in the channel's broadcasts.
"There is no intervention by the political echelon in the programs broadcast on IDF Radio," he said. "But the mission of the army radio station in a democratic and complex society like Israeli society is to strengthen solidarity within society, not to deepen divisions and certainly not to offend public sensibilities."
"There is a big difference between freedom of expression and freedom of incitement, and it is incumbent on the heads of the station to clarify this (fact) to (its) anchors, writers and editors." Liberman continued.
The defense minister noted to Dekel that Darwish's work includes calls for the demise of the Jewish people in the Land of Israel, as well as violent passages such as "the flesh of the occupier will be my food". Such things cannot be a part of the Israeli narrative, as the channel had attempted to frame Darwish, Liberman insisted.
"According to that logic, we could include the heritage of the (pro-Nazi) Mufti (of Jerusalem, Hajj Amin) al-Husseini into the Israeli narrative, or to praise on air the literary quality of Mein Kampf," Liberman stated.
He further recalled that even the left-wing former Deputy Defense Minister Tzvi Dinstein had remarked about Darwish in the Knesset: "Mahmoud Darwish incites in an unrestrained manner against the State of Israel and the Jewish nation which resides there, and encourages hostility towards them in his songs and public appearances."
In response, Dekel told the defense minister that his role as defending freedom of expression does not mean he agrees with all the content on the station, though he acknowledged that contending Darwish's work is part of the Israeli narrative may not have been appropriate.