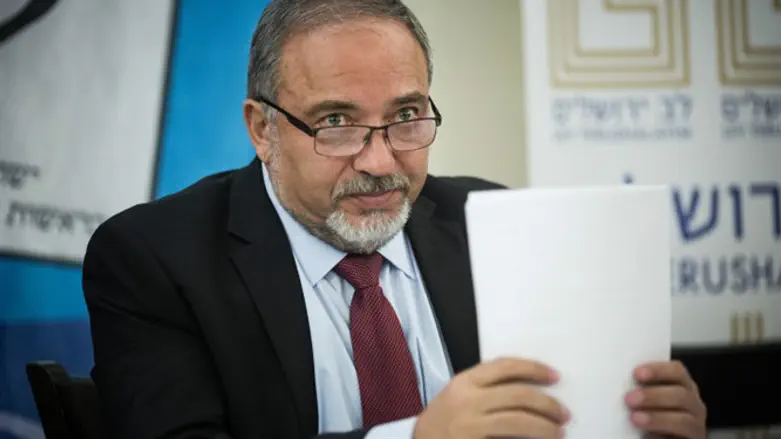 Avigdor Liberman
Yonatan Sindel/Flash 90
Defense Minister Avigdor Liberman (Yisrael Beytenu) has summoned Army Radio head Yiron Dekel to explain Tuesday evening's program on Arab nationalist poet Mahmoud Darwish.
The show was part of the Broadcast University program.
Liberman says, "This seems to be a serious issue. Someone who wrote anti-Zionist texts that are still used as fuel for terrorism against the State of Israel was included by a military radio station as a formative text of the Israeli society, along with Jerusalem of Gold and the Silver Platter.
"It's obvious that this should not have happened and we will not ignore it," he added.
Culture and Sport Minister Miri Regev (Likud) similarly attacked Army Radio before the program aired.
"Army Radio has gone off the rails," she told NRG. "A public radio station in the Defense Ministry cannot permit itself to strengthen or glorify the anti-Israel narrative within the framework of a radio program intended to focus on 'foundational texts of Israel.'
"Mahmoud Darwish isn't Israeli and his texts are not Israeli. In essence, they are opposed to the central values of Israeli society."
Regev continued: "We must fight the Palestinian incitement that appears in their textbooks and the media, and not give them an additional publicly-funded platform on the army station.
"It's inconceivable that the Israeli public should fund a radio station that attacks its concerns and give a platform to the Palestinian narrative that is opposed to the basic existence of Israel as a Jewish democratic state. I again call on Defense Minister Liberman to put things in order. We must remove Army Radio from the defense establishment."